Lomi Bloom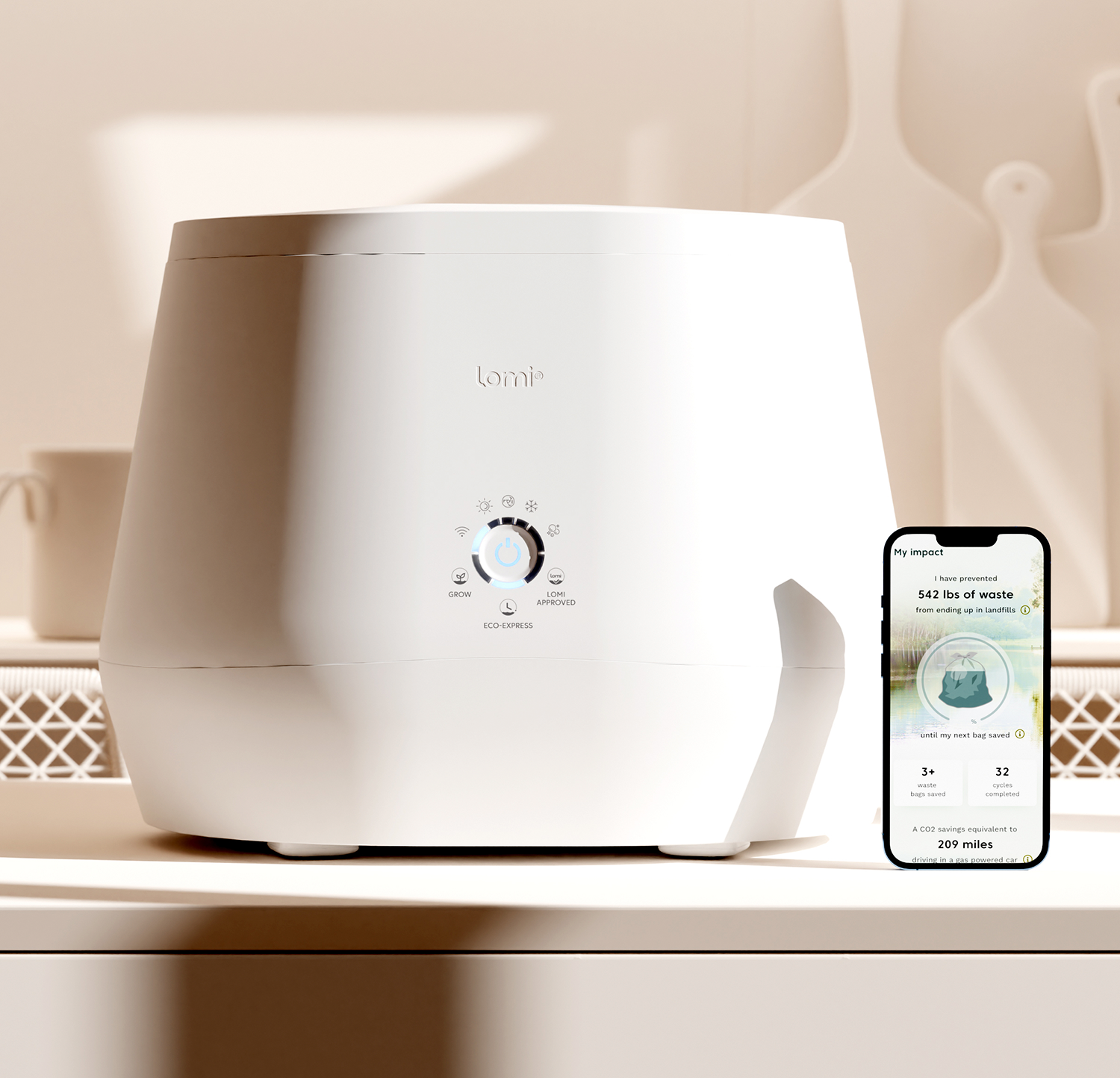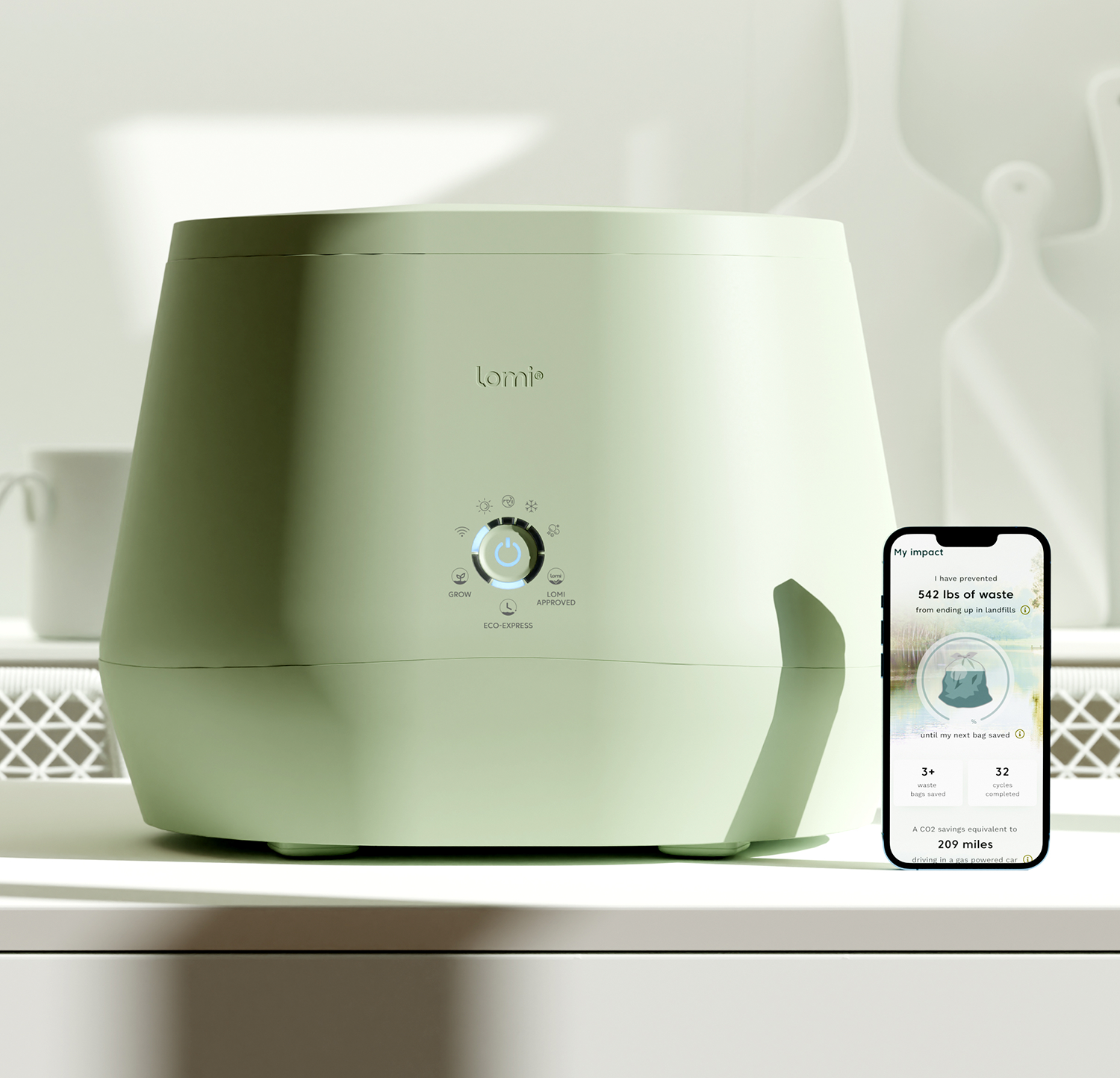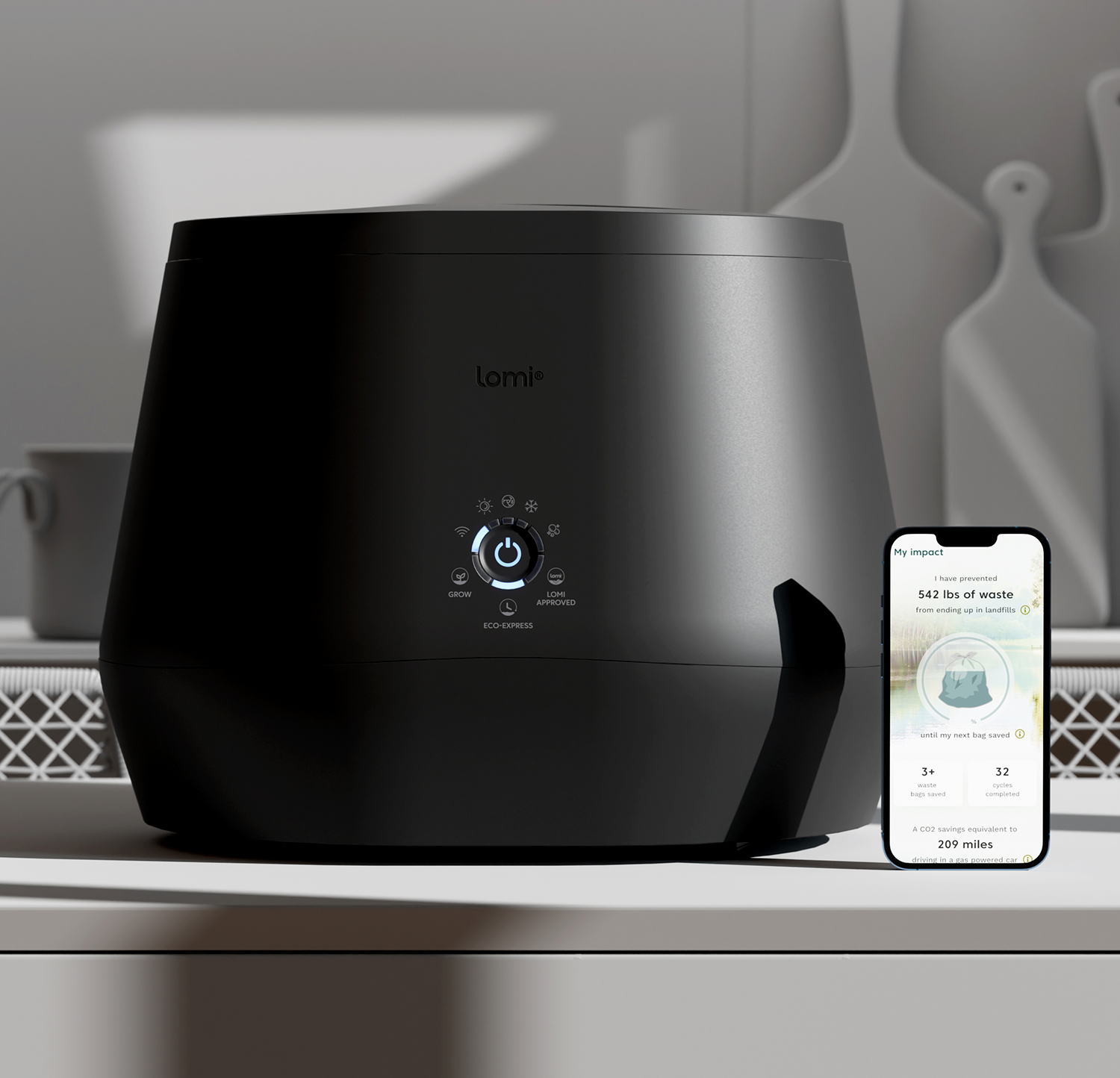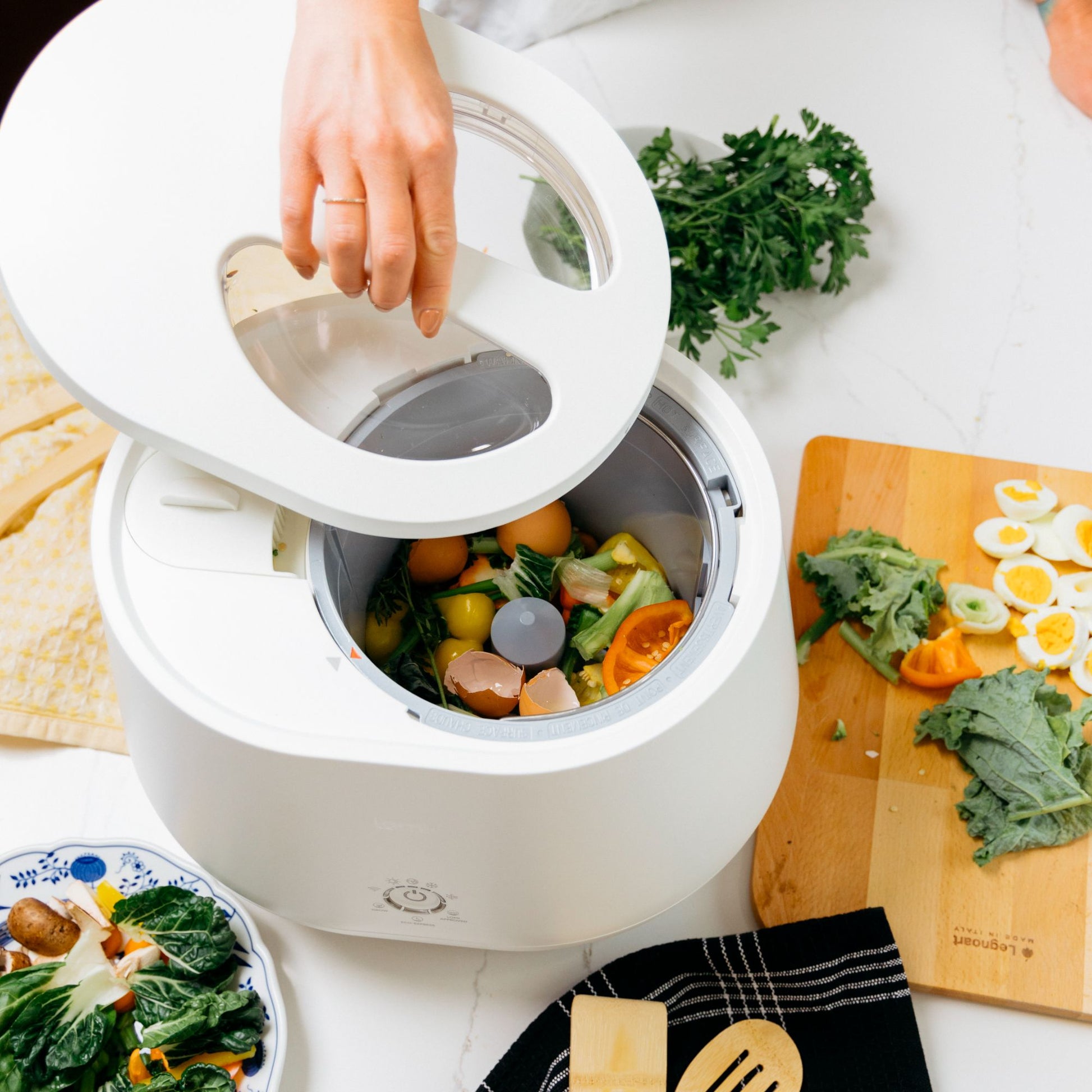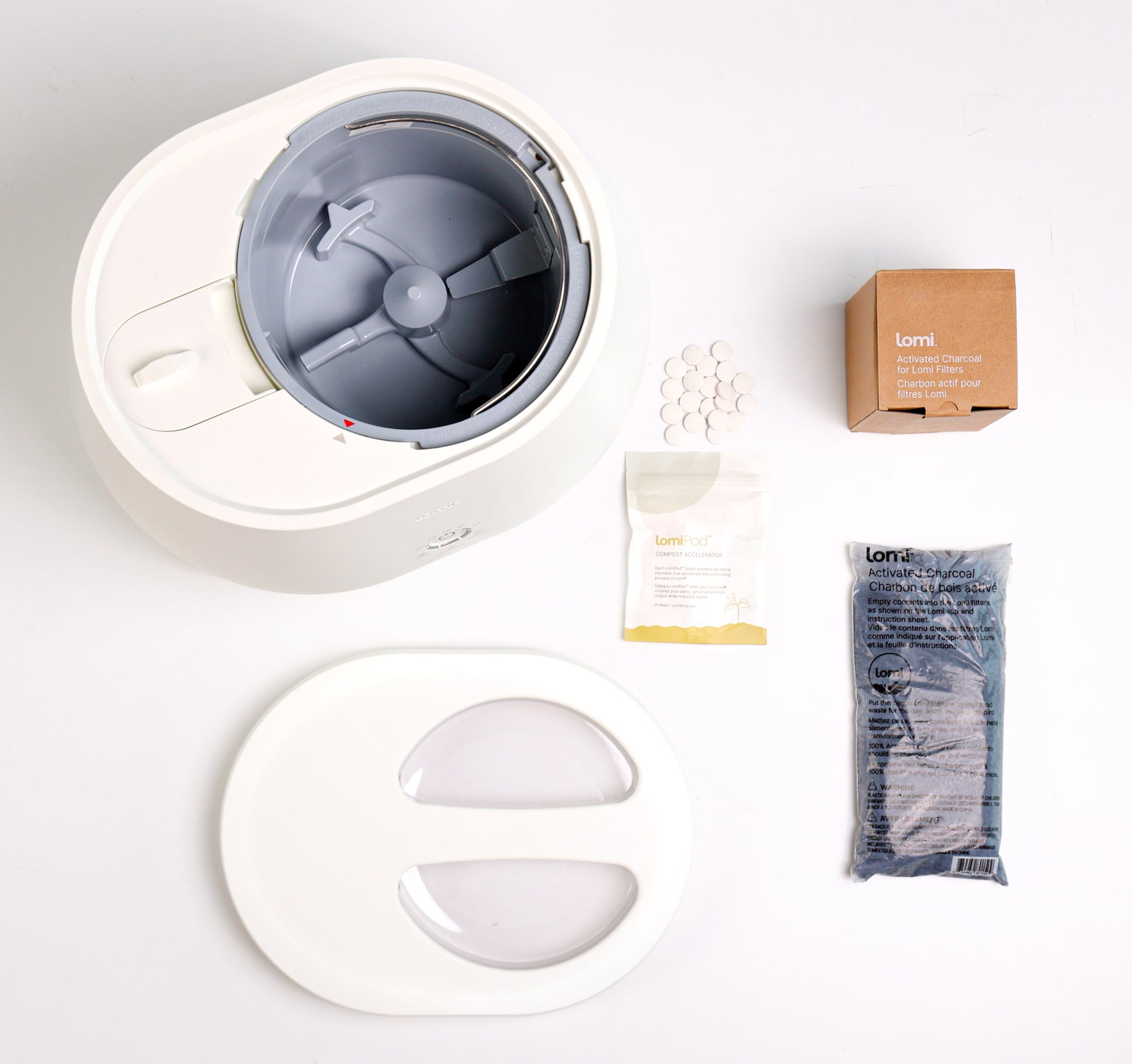 Lomi transforms almost anything you eat into nutrient-rich plant food. It makes composting cleaner and easier with none of the smell or fruit flies!
Get the Bloom app to earn rewards and track your impact.

Free shipping
Black Friday - Up to 30% off
Lomi Bloom
$419.00
$599.00
$509.00
$599.00
Subscribe and Save
Subscribe and Save
Save an additional $80 off Lomi
Lifetime Warranty with subscription
Starter supply of LomiPods and
Filters FREE
Refills for LomiPods and Filters every 3 months
FREE device upgrade every 3 years
Subscription billed at $60/every 3 months starting 3 months after your purchase date. Minimum 1 year subscription term.
Holiday Return Policy
Orders placed between Nov 1- Dec 31 can be returned until Jan 31. Return shipping is free (as always).
How it works!
Products delivered to your door every 3 months. Includes:
Warranty and Device Upgrade
With this subscription you never have to worry about parts, repairs or replacements. You can make a claim any time in the future as long as your are still subscribed. Without a subscription Lomis come with a 1 yr warranty.
Active subscribers get a free Lomi upgrade after 36 months of consecutive subscription.
Lomi Filters
Every Lomi you purchase needs a fresh filter to run. With our subscription service, you'll receive a new filter every 3 months, like clockwork, to keep your Lomi smelling fresh and odor-free.
LomiPods
You'll also receive Lomi Pods; pods are added to each cycle to help you produce the most nutrient rich results.
Minimum 1 year subscription term.
What do I need to know about my Lomi when getting started?
Food waste. Button. Dirt - It's that simple.
Lomi begins by heating and grinding your food waste.
Through the cycle, the sensors measure and control the moisture content and temperature inside while the airflow system provides continuous supply of oxygen.
The airflow system also consists of a proprietary dual-filter design that helps neutralize the odour.

So what's with our dirt?
Well, technically speaking it's pre-compost.
We like to call it Lomi Earth™
Lomi Earth contains important organic matter & microbes needed to create healthy soil.
It's a superfood that you can sprinkle on your lawn, garden and plants.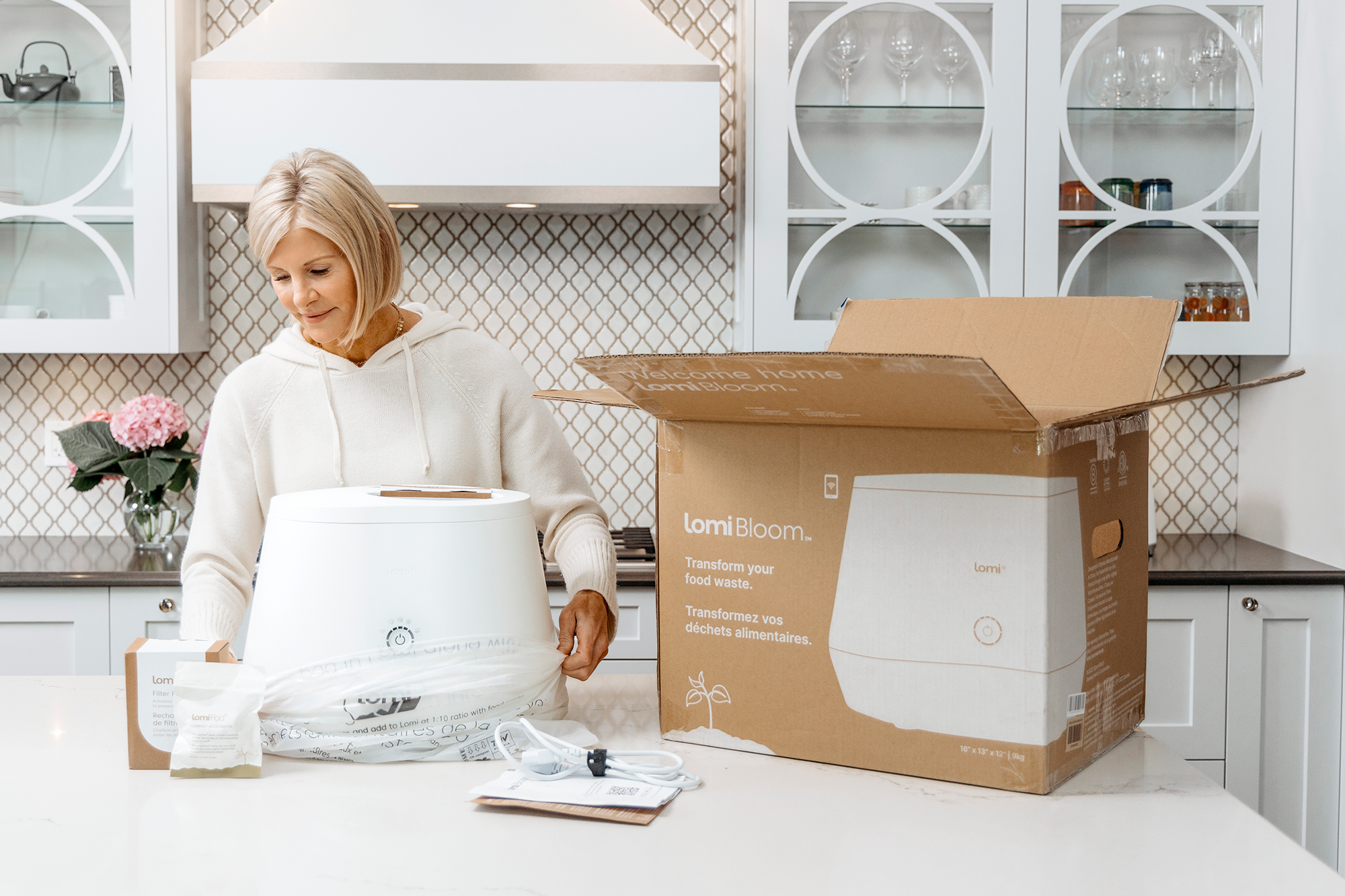 Lomi Bloom will arrive at your doorstep with:
Lomi Bloom
Filters for 45 cycles to keep your kitchen smelling fresh and odor-free
LomiPods for 45 cycles to get the best plant food out of your Lomi cycle
Product Specifications

Dimensions
16" W x 13" D x 12" H
Weight
9 kgs (19-20 lbs)
Capacity
3 litres
Voltage
110V North American
Noise level
< 60 dB (same as a dishwasher)
Electricity needs
Eco Express: less than 0.60 kWh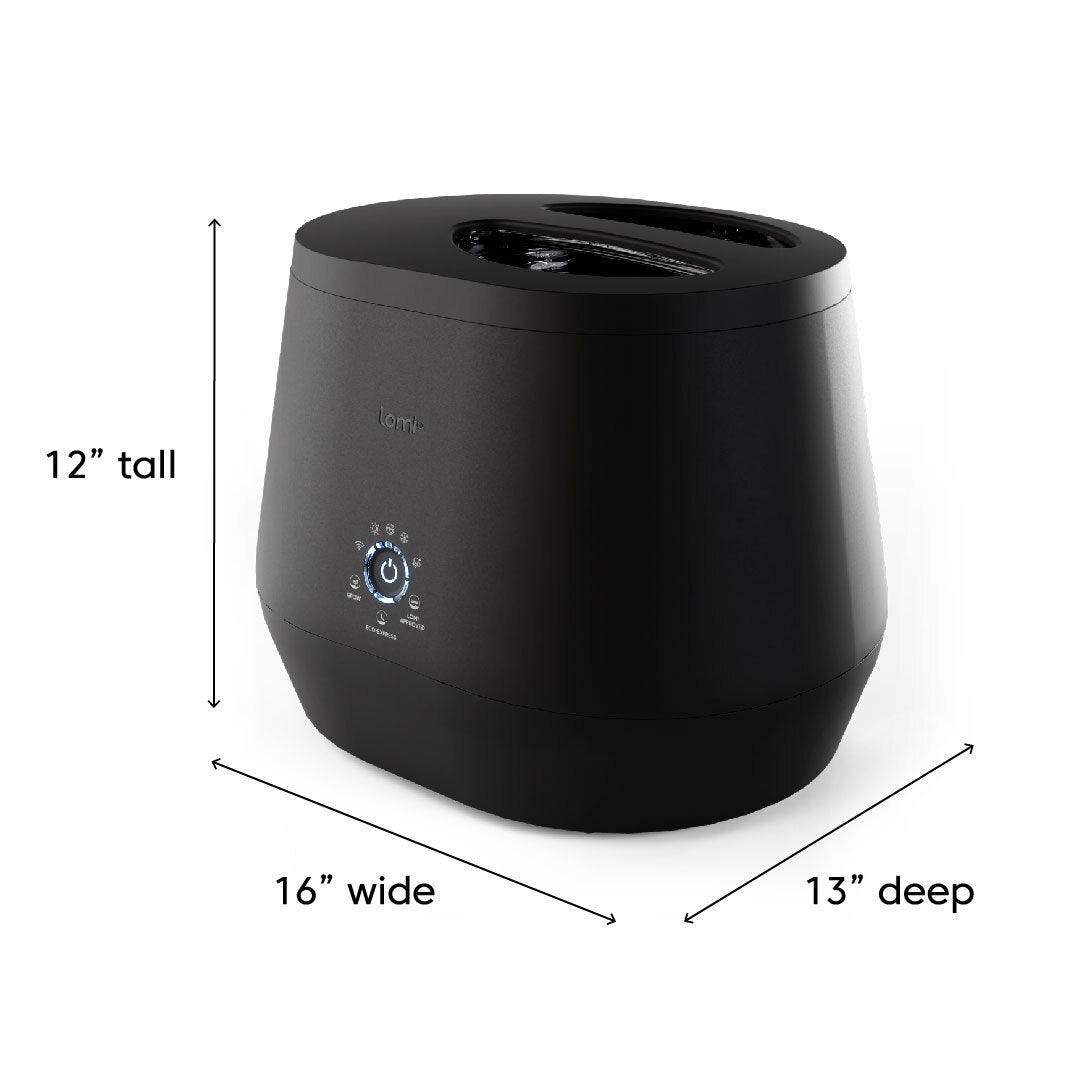 Three easy ways to use the end product.
Good
Use Lomi, throw the output in the trash.
Better
Use Lomi, put the output in the organics pickup bin.
Best
Use Lomi, use the output as a fertilizer on your lawn or in your garden.
More than 165,000 happy households
My Family is a climate solution!!
"The whole process is wonderful to help my family do our part in recycling waste."
The huge difference this simple appliance can make.
"It is surprising to see the difference it has made. Every little tweak in the way we treat the planet is exceedingly valuable."
I've cut the weight of my trash in HALF!!
"This machine is so great. Biggest difference I see is that the weight of my garbage has decreased significantly!"
Faster, cleaner, smarter... and way more colorful.

Up to 2 hours faster
Lomi Bloom comes with updated temperature sensors that reduce cycle durations.

A new cleaning cycle.
A hassle-free way to clean your Lomi Bloom. Just add water and start the cleaning cycle.

Basically soundless.
Quieter than a modern-day dishwasher, Lomi Bloom runs at under 60 db.
A Connected Lomi
Using our Apple iOS app Lomi Bloom can measure each cycle and give you real-time data on your carbon impact.
Track your impact and get rewarded for reducing your carbon footprint.
Lomi Bloom unlocks an entirely new and simple way to interact with your food waste. Meet the Connected Smart Waste™ Experience.
Get rewarded for referrals.
Give your friends $50 off their first order and get $50 worth of points for each successful referral!
Earn through subscriptions.
Earn 300 points on every reoccurring subscription order.
Earn points every time you run Lomi Bloom.
For the first time ever, you can earn up to 10 Reward points every time you run a Lomi cycle.
Our supercharged Apple iOS app is here to make tracking your impact easier.
Through our team's drive to innovate and reimagine food waste, Lomi Bloom can measure each cycle and provide you with real-time data on your household waste footprint.
We're not only making it possible for you to track your impact… For the first time ever, you'll be rewarded every time you run your Lomi Bloom. Earn points and redeem them for Lomi essentials and everyday brands that you'll love.
Turn your household into a climate solution using nothing but your food waste.
No mess, no smell, no bugs.
Feel good about your climate impact.
Reduce your weekly trash by 50%.
Earn rewards for simply running Lomi Bloom.
Which model is right for you?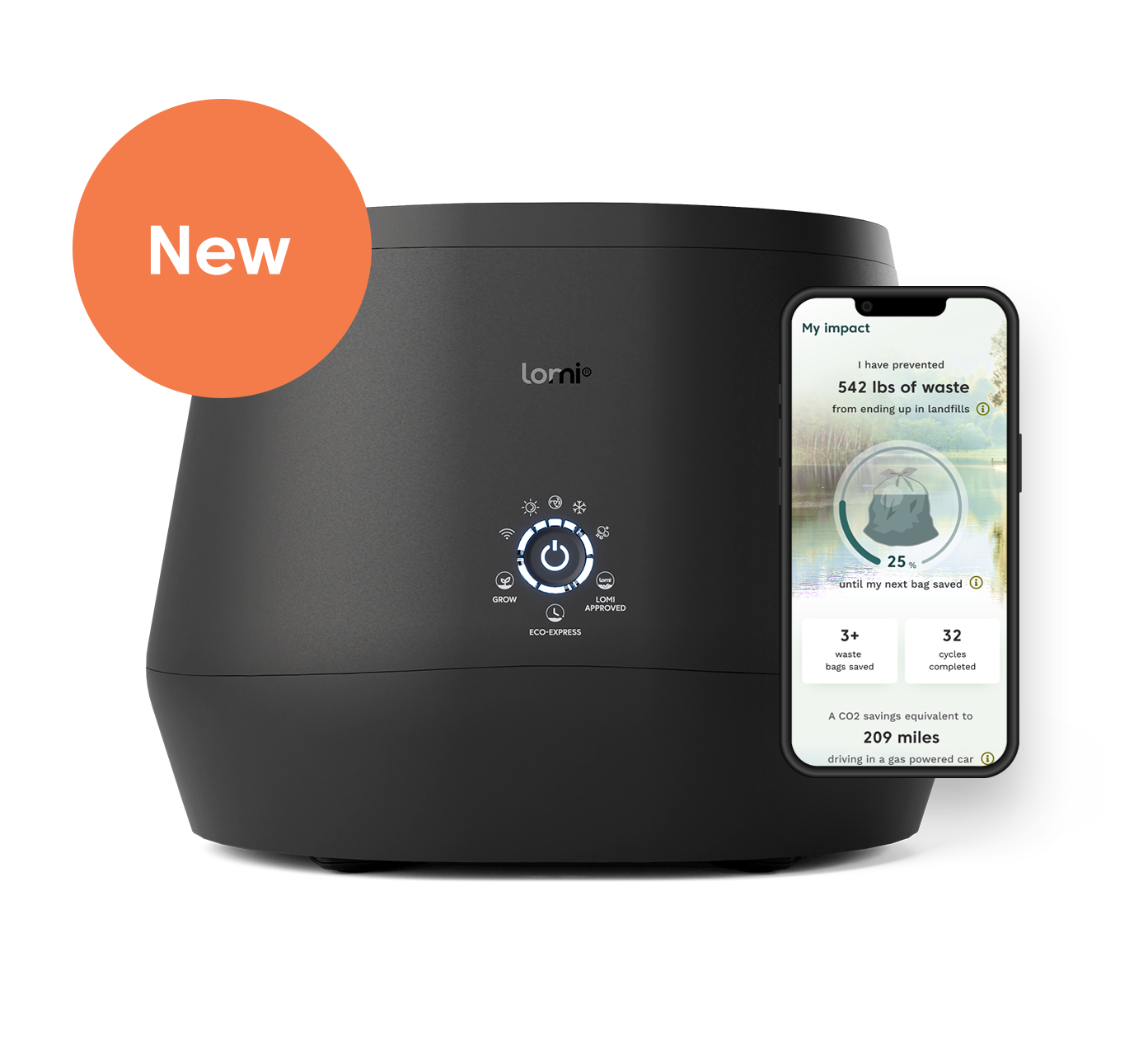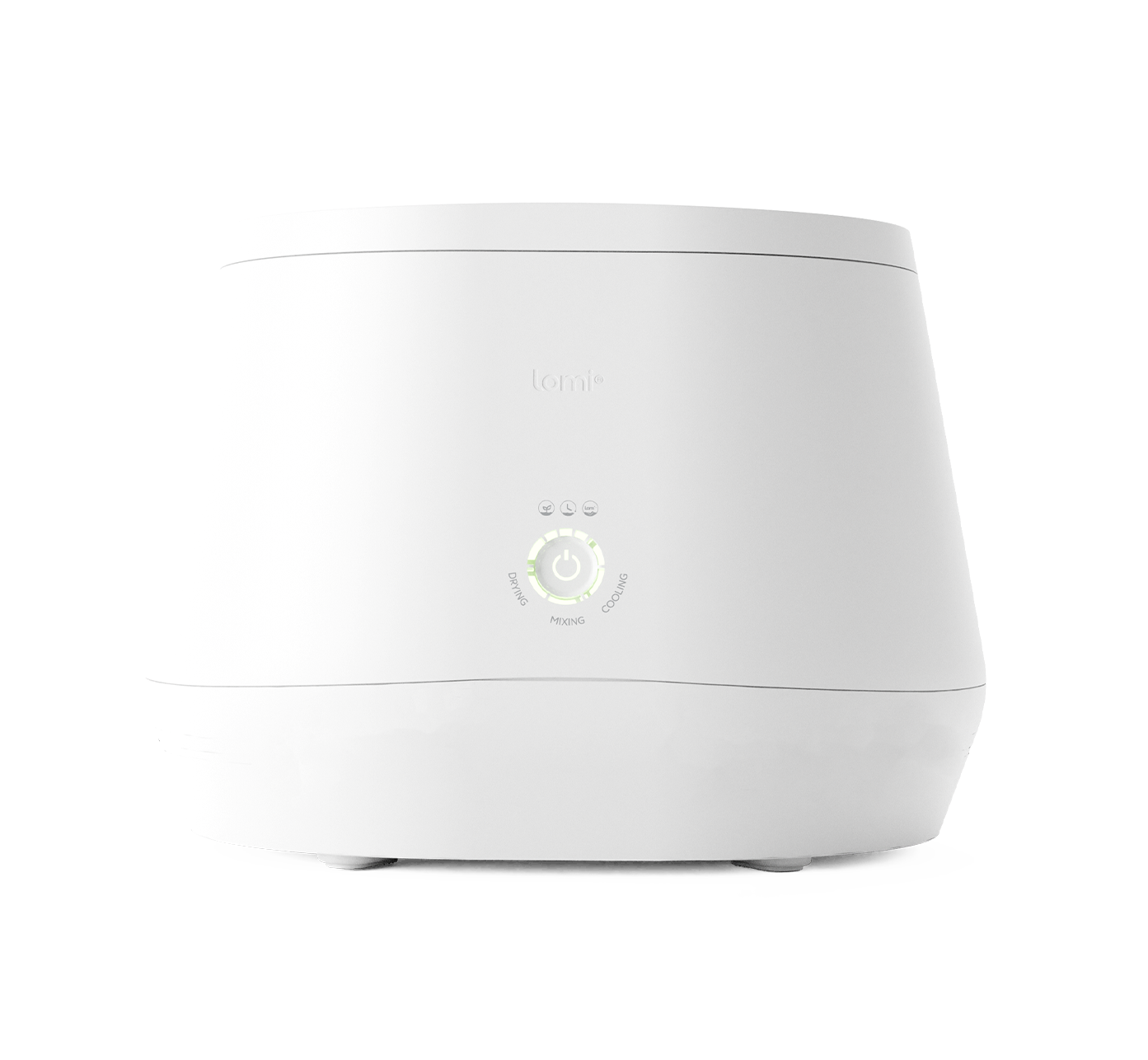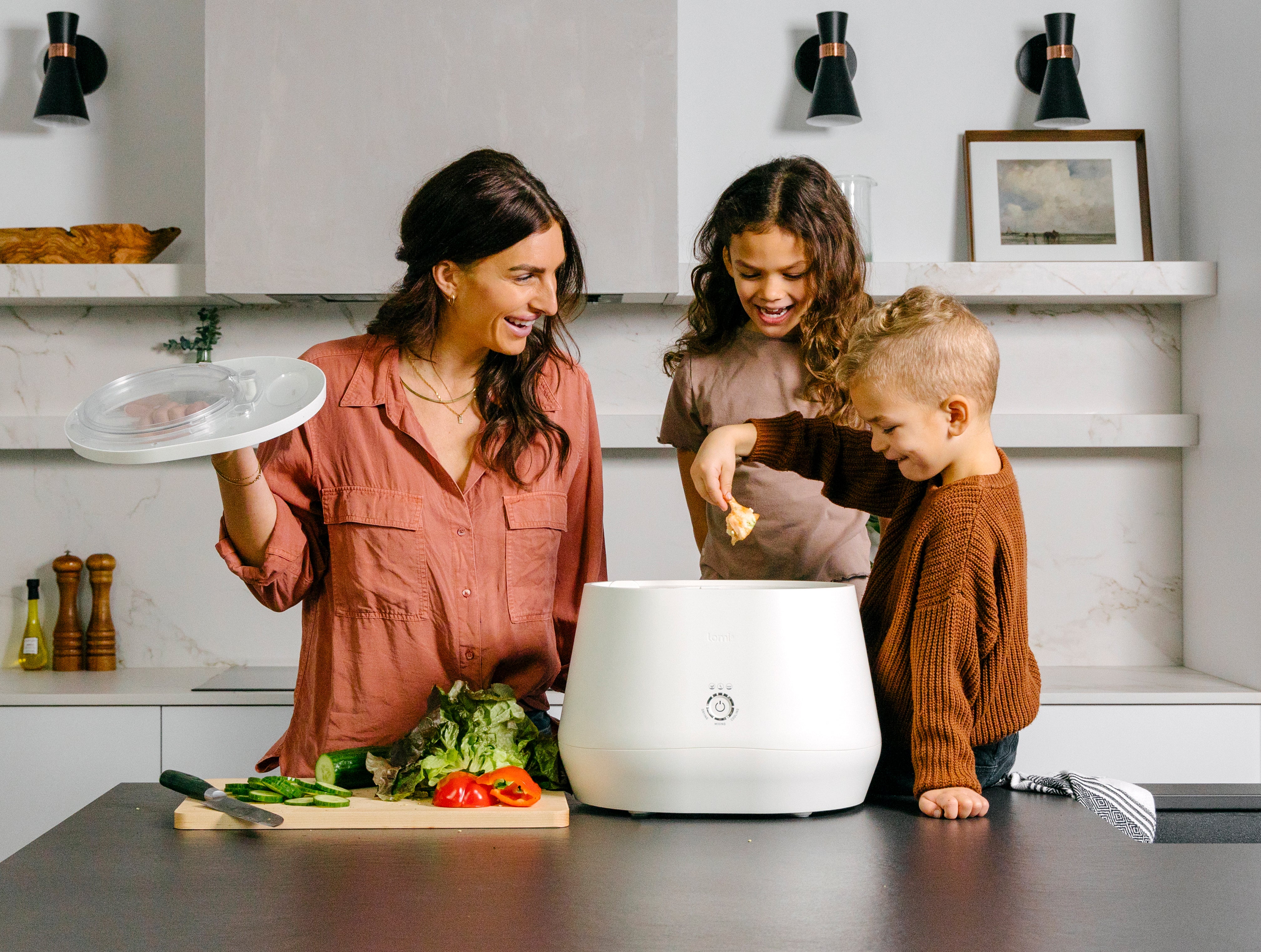 Not the right Lomi for you?
Lomi Classic has everything you need to eliminate your food waste. All the amazing original features, for an amazing price.
Over 160,000 people, just like you are already using Lomi to be a part of the solution.