It's time to make food storage...Smart.
Have you ever been afraid to feed your kids leftovers? Simply because you weren't sure if they were still safe to eat?
That ends now.
Lomi Labels is here to help you track of all your food so you can stop flushing cash down the toilet because you got a little busy and forgot about when you made something.
Regular price $19.99Sale price $15.99 USD
**Unless you're buying for a friend, (which they will love!) Lomi Labels are best used as one pack per kitchen.
More than 150,000 happy households
We're all terrified of that 4 week old lasagna hidden in the back corner of the fridge.
43% of food waste happens at the household level. That's the equivalent of your family wasting $2,000 every year.
Food is expensive and it isn't getting cheaper. We're going to help you save money.
A totally new way to help your family save money on food.  And it isn't coupons!
Lomi Labels is really quite simple. It's the most convenient way to never waste another bite.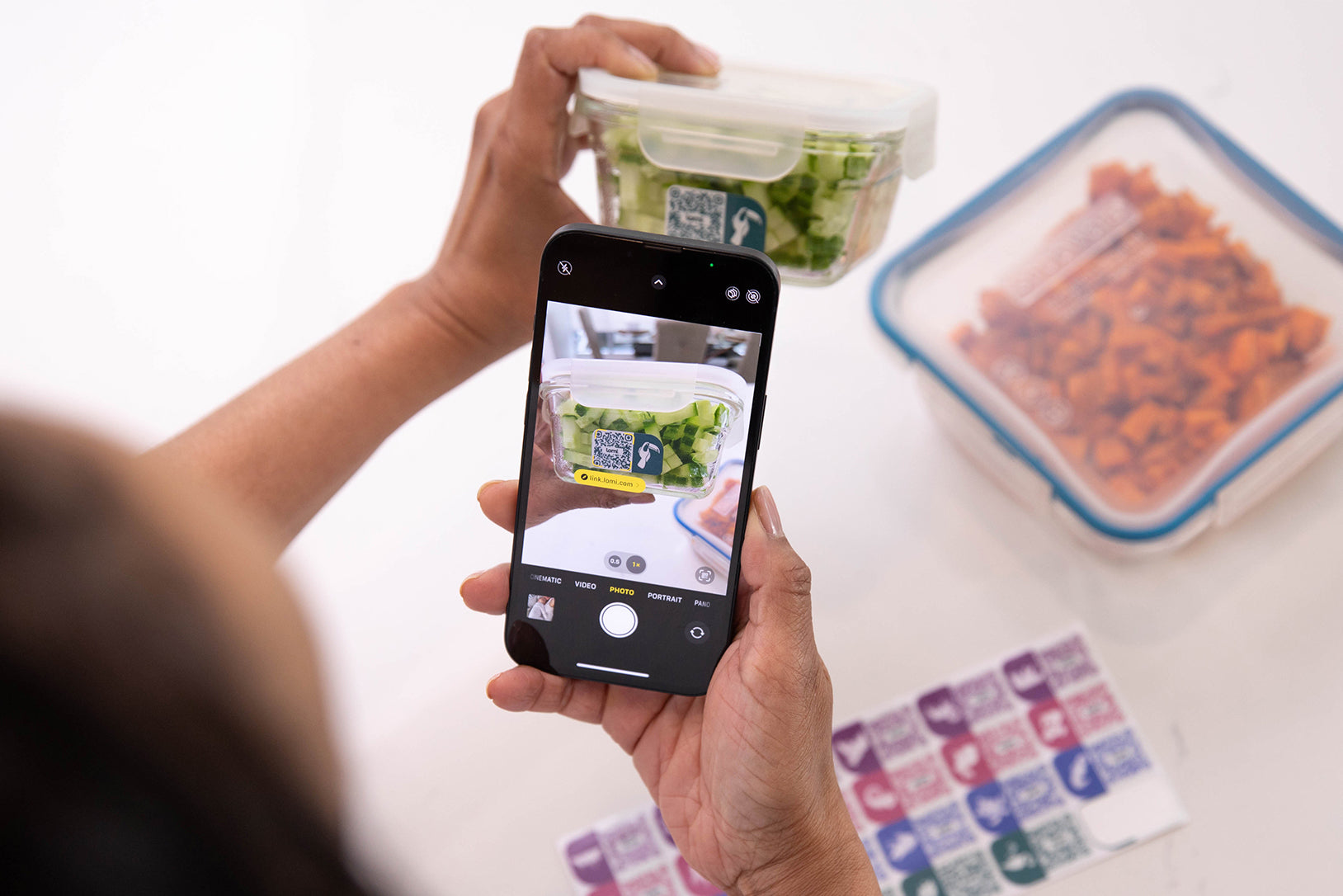 Simply add or scan your food item to the Lomi Labels app.
Choose when you'd like to be reminded.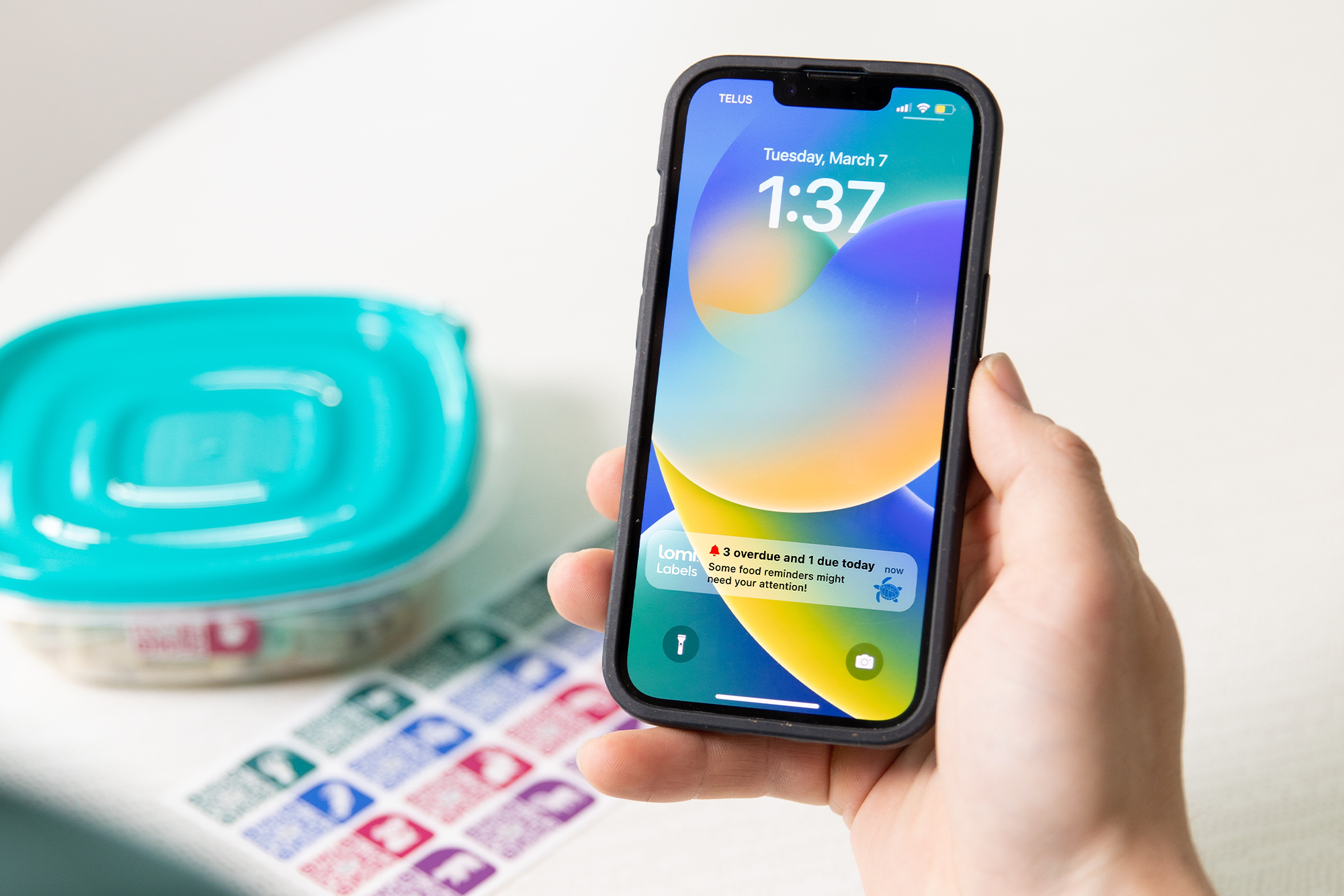 Get notified before your leftovers expire.
Now your whole family will know what's in the fridge and ready to eat. No more guesswork on if that leftover chicken is still good.No more "When did we cook this?"
 ✅ Reusable  ✅ Freezer safe ✅ microwave safe ✅ dishwasher safe ✅ BPA free
From left overs to raw ingredients. You don't need to watch things go in the trash because you forgot about them. Just stick, scan, eat.
It is almost inevitable that the fruits, vegetables, and leftovers in my fridge and pantry will go bad and get thrown away. Lomi Labels makes my job, as a mother, really simple. We throw out less than a quarter of the food we buy now.
- Angela L. (Verified Customer)
Frequently asked questions
How does the Lomi Labels App work?
Lomi Labels are designed to be used with the Lomi Labels app for the best experience and functionality to help prevent your food from going to waste, but you can still choose to use the Lomi Labels app without Lomi Labels.

The Lomi Labels app is available for download in the Apple App Store for free and is currently only available to Apple users.

Download the Lomi Labels App
Can I use the Lomi Labels App without Lomi Labels?
The Lomi Labels App is free and can be used without purchasing Lomi Labels. All you have to do is manually set up reminders for the food items that you'd like to be notified about.
How durable are Lomi Labels?
Lomi Labels are designed to go anywhere your food containers will go.
✅ Dishwasher safe
✅ Microwave safe
✅ Freezer safe
Will Lomi Labels fit on any container?
Lomi Labels are designed to be used on most food storage containers and measure 1.41 " x 0.81".
Are Lomi Labels removable?
Lomi Labels can last on your container for 1yr+ or minimum 75 cycles of dishwasher. They are removable but not reusable. You are not able to peel off and re stick labels. Lomi Labels are designed with a powerful, long lasting adhesive and are microwave, dishwasher, and freezer safe.

Can be repurposed on app
Should I buy more than one pack of Lomi Labels?
Labels are best used one pack per kitchen - multiple packs will not work as they are the same stickers.