Our Black Friday sale is live!
Goodbye food waste. Hello Savings!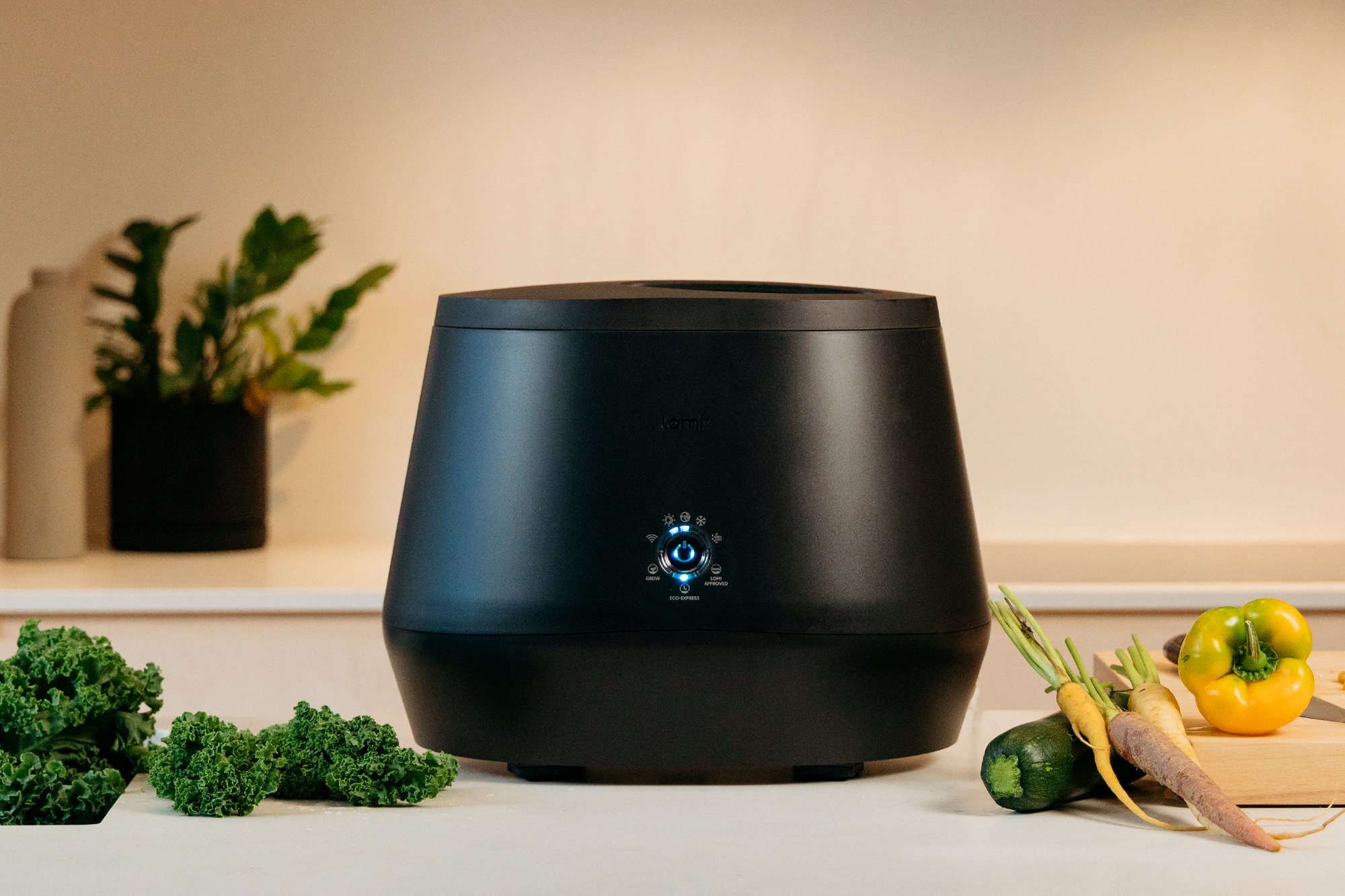 The biggest innovation in your kitchen since the dishwasher.
Lomi is the only appliance that prevents food waste from stinking up your kitchen... and polluting the planet.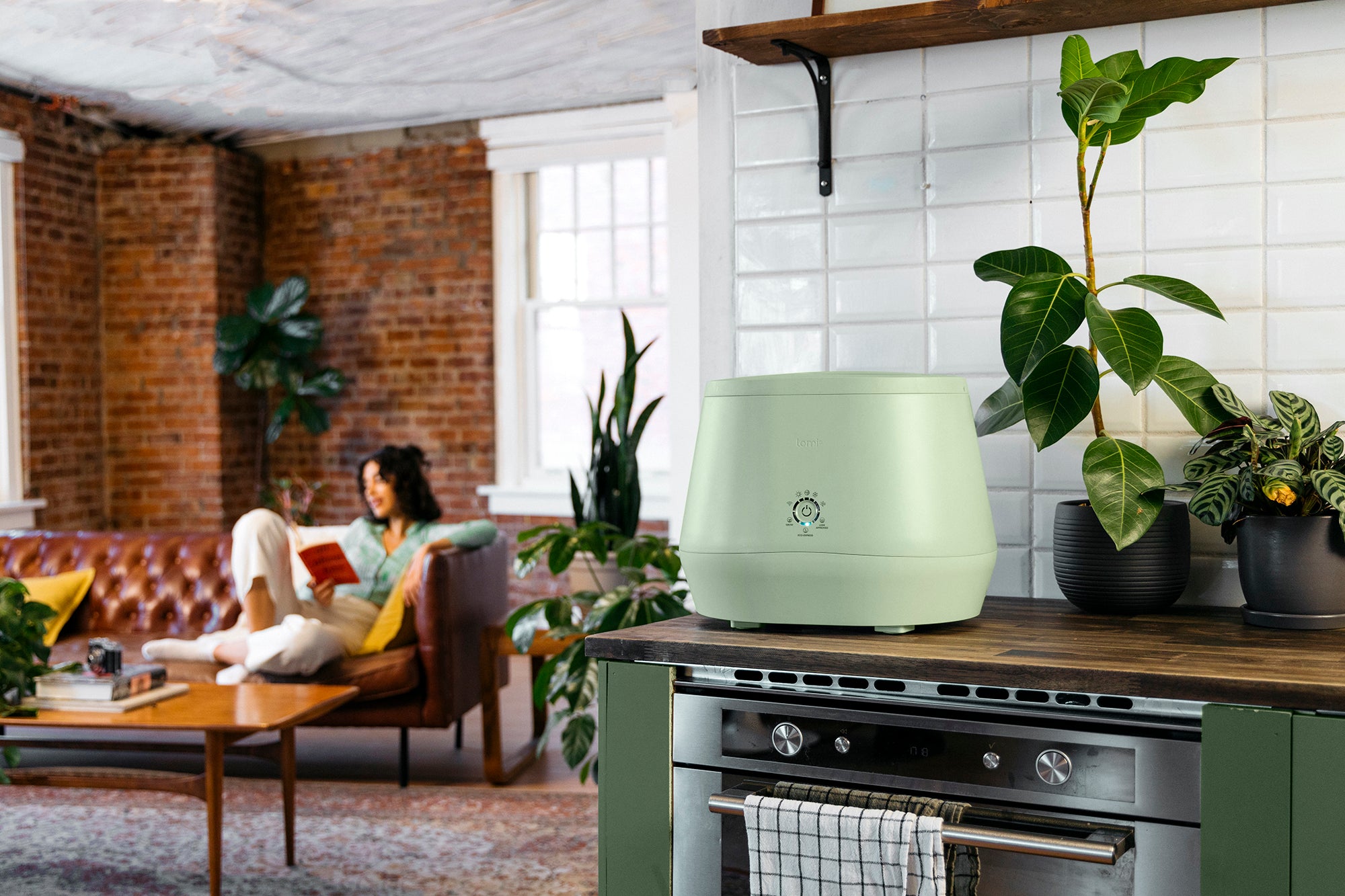 Turn your home into a climate solution.
In just 4 hours, Lomi transforms almost anything you eat into nutrient rich plant food so you can feel good about eliminating the food waste your family sends to the landfill.
Cut your garbage in half.
Eliminate bugs and odors in your kitchen.
Feed your lawn and garden.
Lomi makes recycling your food waste so simple.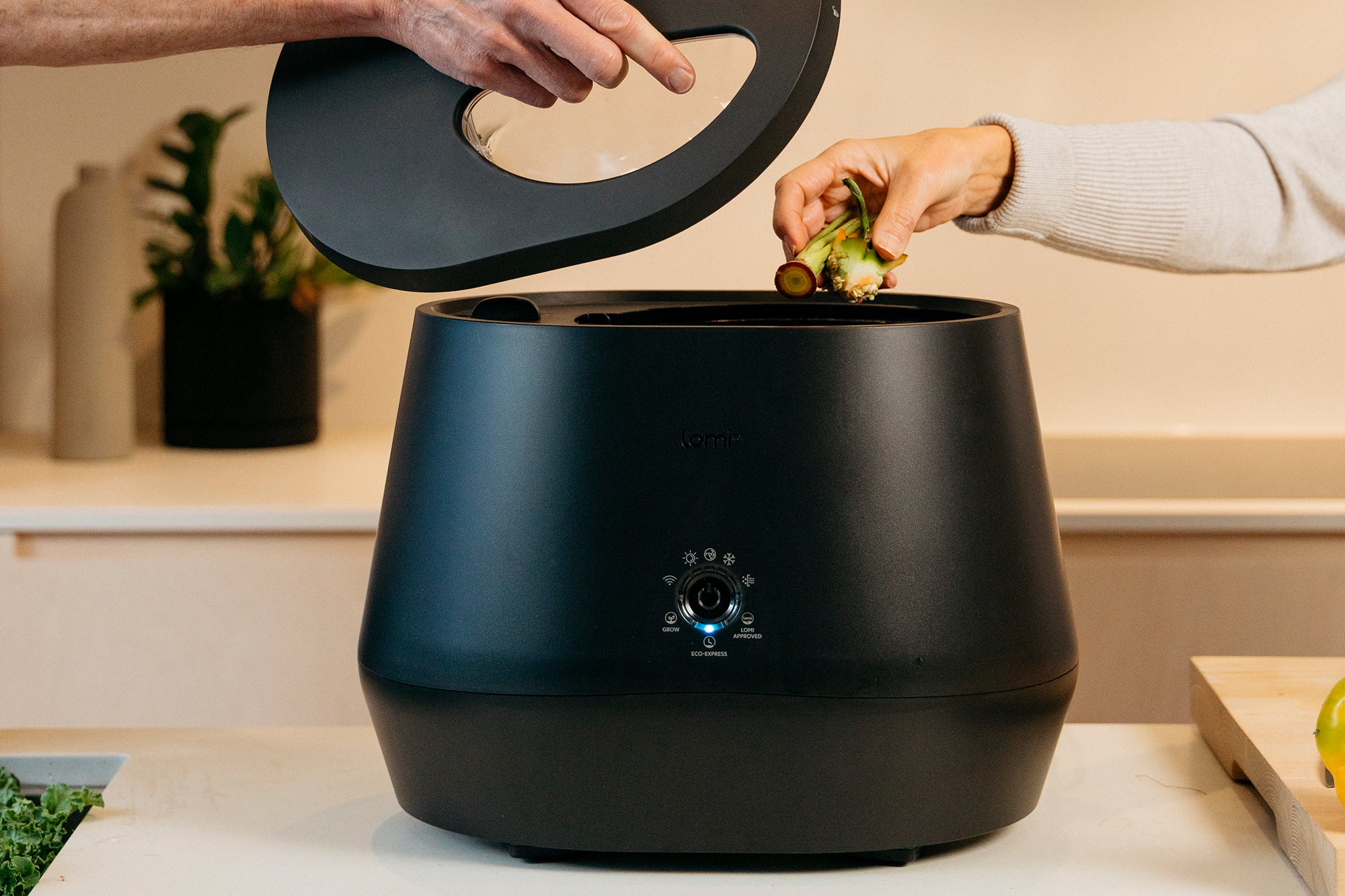 Fill
Put all of your food scraps, coffee grounds, and even your old Pela case into Lomi.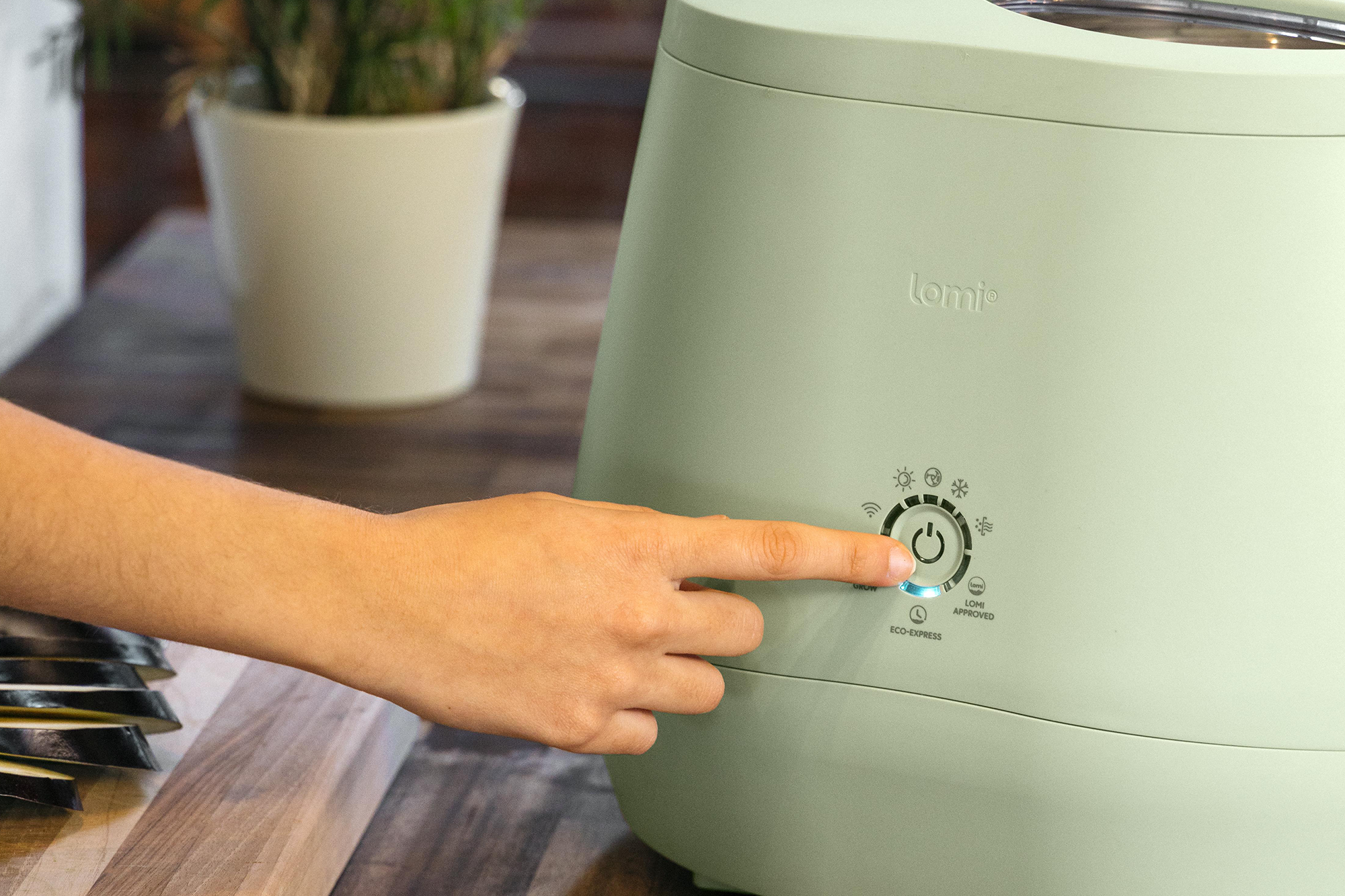 Transform
Push the button and Lomi works its magic to breakdown your waste.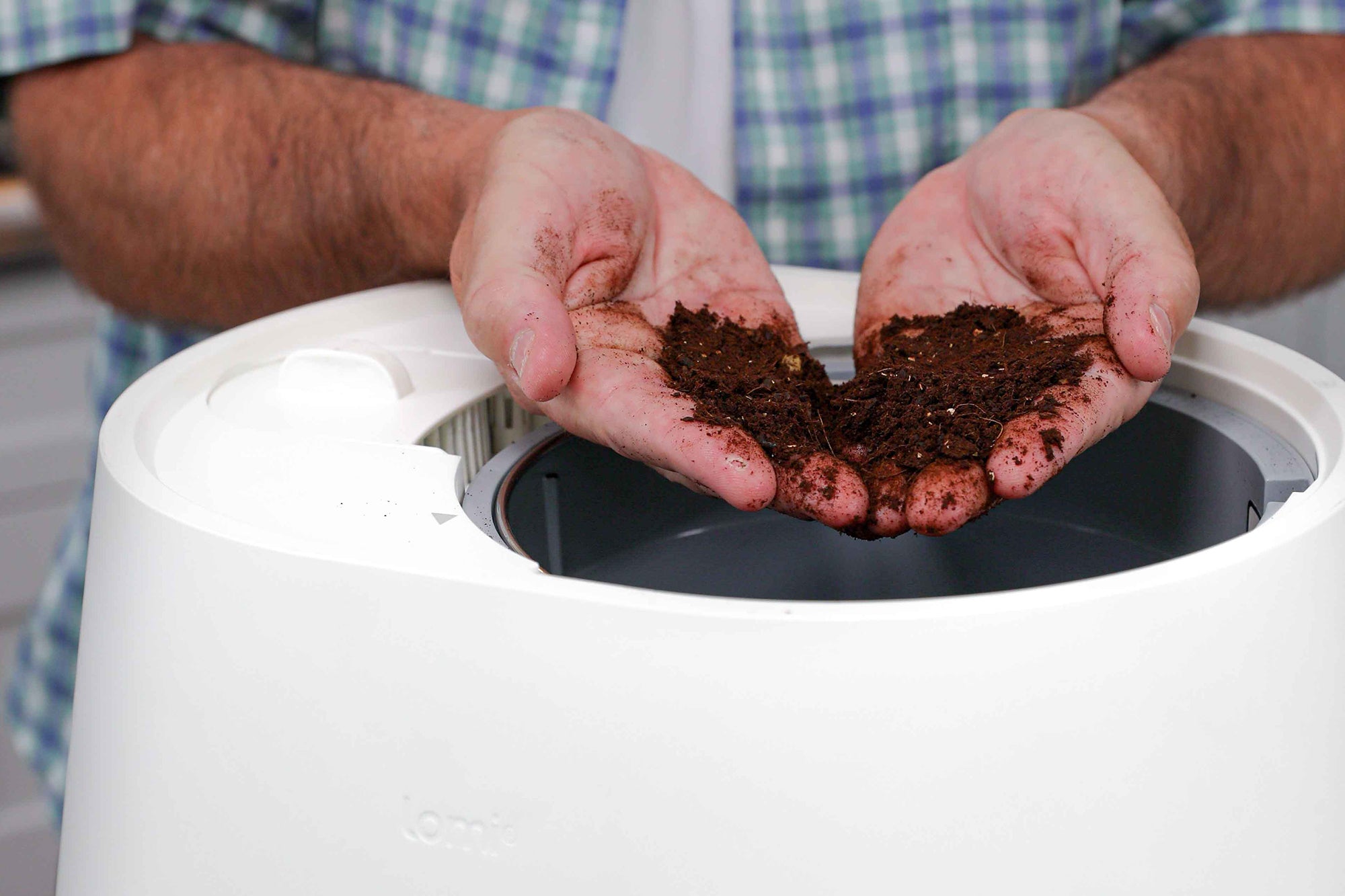 Reclaim
The end product Lomi makes can go into your indoor plants, your garden, or your green bin depending on the mode you select.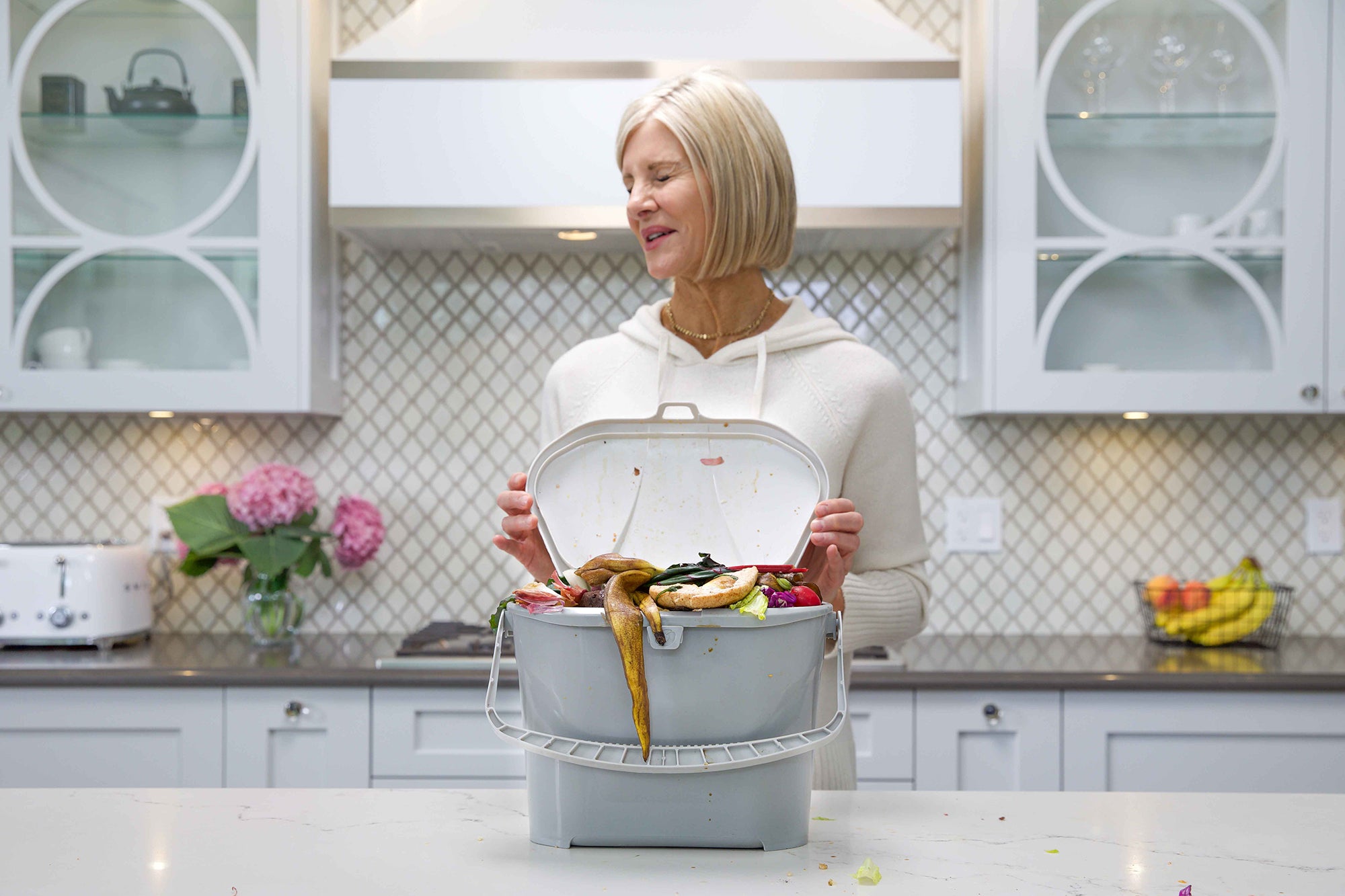 Is the little bin under your sink really the best we can do?
If you're among the 8% of Americans with food waste pickup, you're familiar with how unpleasant greens bins can be. Lomi transforms your waste into a natural fertilizer to feed your plants or for organic pickup. No more foul odors or pests.
The best investment you'll make in your kitchen.
No mess, no smell, no bugs.
Feel good about your climate impact.
Cut the chore of doing the trash in half.
Earn rewards for running Lomi Bloom on our iOS app.
How it Works
In general, Lomi happily accepts all type of food scraps, with some exceptions. What you put in will affect the end result — the type of Lomi Earth — that is created and how it can be used.
What are the three modes that help turn food into Lomi Earth
Lomi comes with three built-in modes that give you the option to choose the cycle that best suits what you're putting into Lomi.
Eco-express mode
3–5 hrs
Eco-express composts at a higher temperature and is the best mode for the fastest result and lowest energy consumption.
The output from Eco-Express can be used on your lawn & garden, home or local compost bin.
Grow mode
16-20 hrs
Grow mode runs at a low heat setting to preserve the microorganisms that create a nutrient-rich fertilizer.
The output from Grow mode creates the most nutrient-rich Lomi Earth. Mix with soil at 1:10 ratio for your garden and houseplants
Lomi-approved mode
5-8 hrs
The Lomi Approved™ mode is able to break down certain bioplastics and Lomi Approved™ products and packaging.
The output from Lomi Approved™ is made for your local compost bin.
What you can do with the dirt.
Food scraps + Lomi = Plant food.
Well, technically speaking, this plant food is a pre-compost.
We like to call it Lomi Earth™
And Lomi Earth contains all the important organic matter & microbes needed to create healthy soil.
It's a superfood for your Lawn, Garden and plants.
Three easy ways to use the end product.
Good
Use Lomi, throw the output in the trash.
Better
Use Lomi, put the output in the organics pickup bin.
Best
Use Lomi, use the output as a fertilizer on your lawn or in your garden.
Which model is right for you?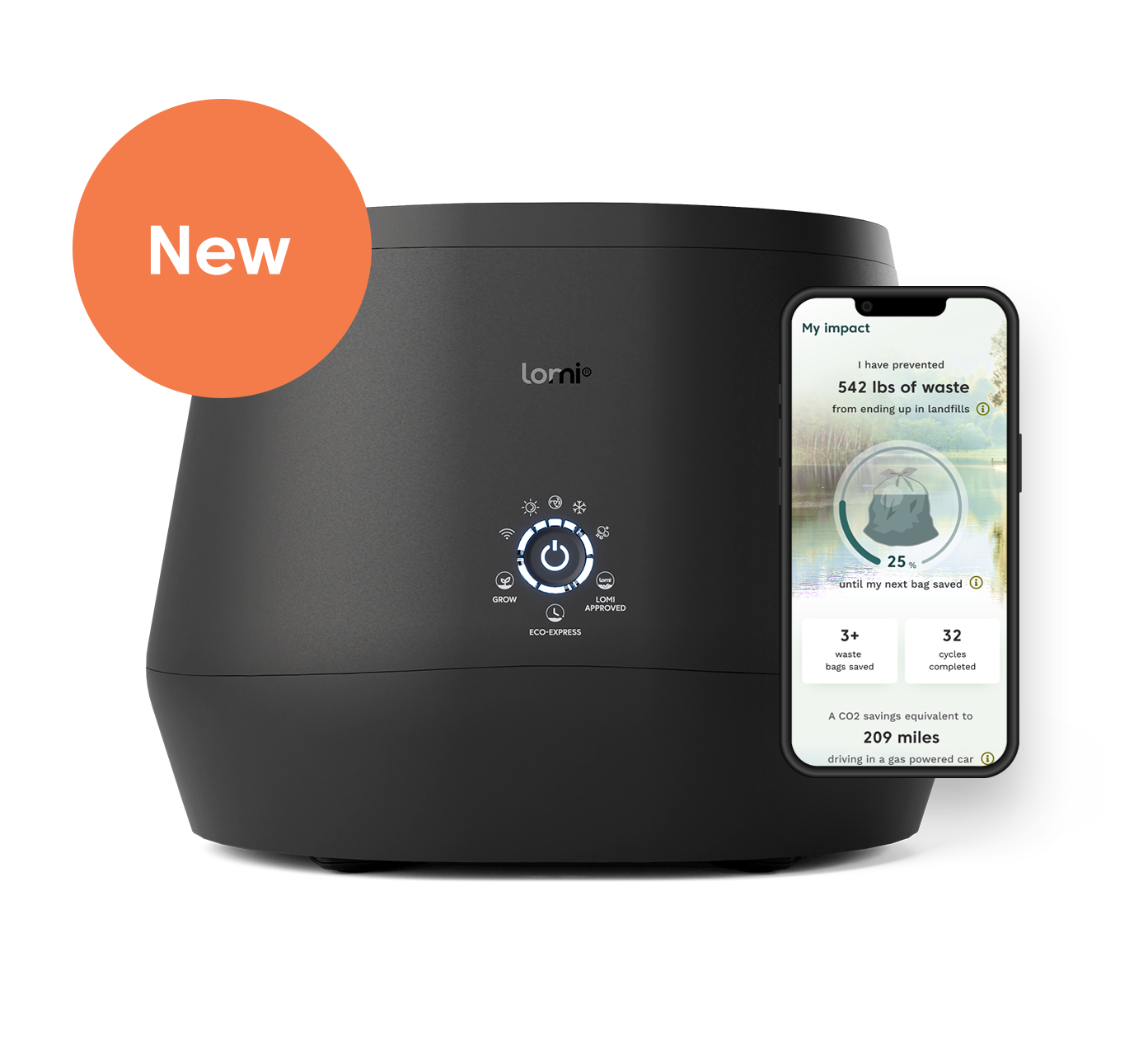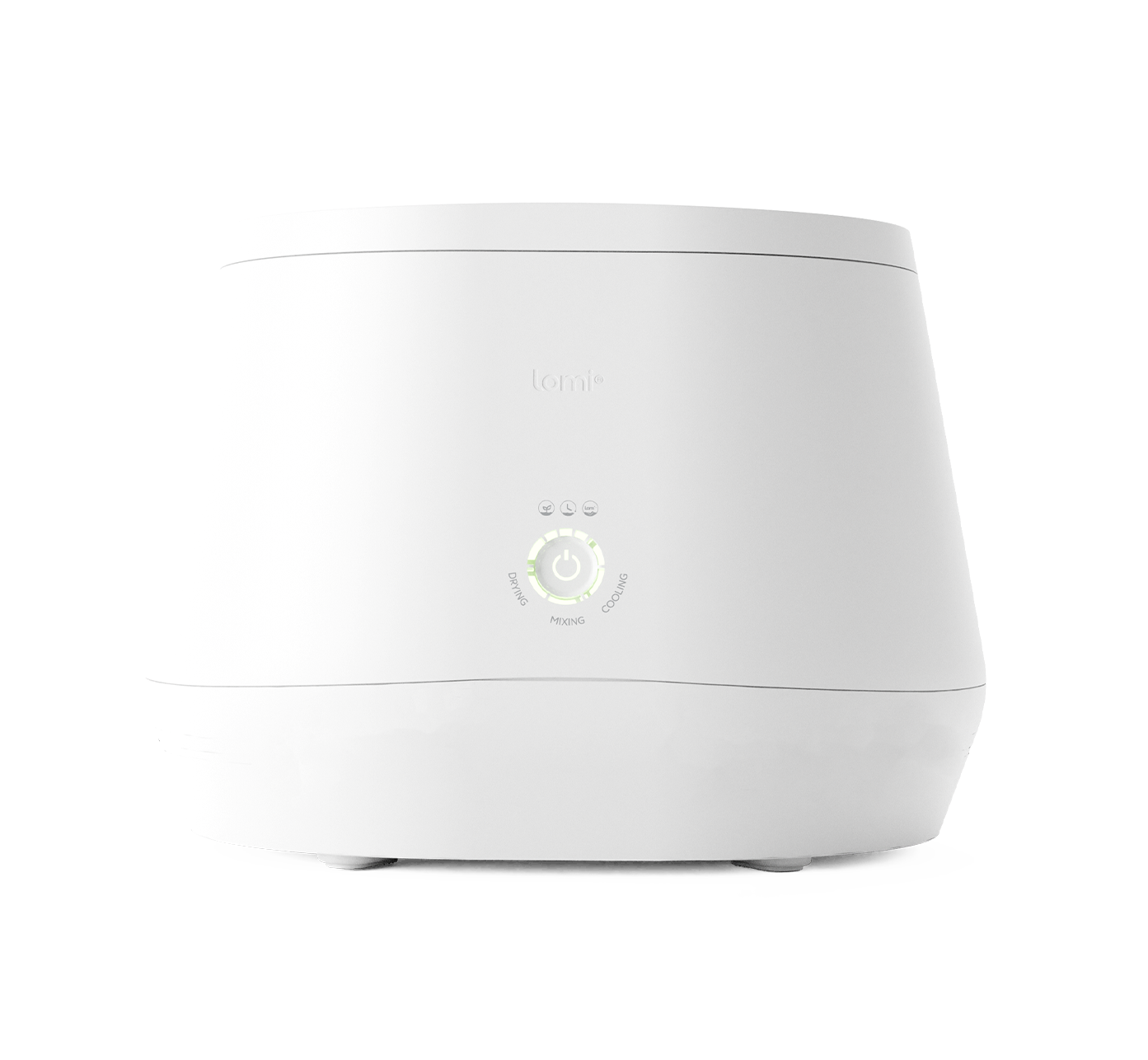 Finally, it pays to be the good guy. Meet Lomi Bloom.
We kept the unique, organic shape people fell in love with, and gave you a faster, cleaner, smarter, more colorful Lomi Bloom.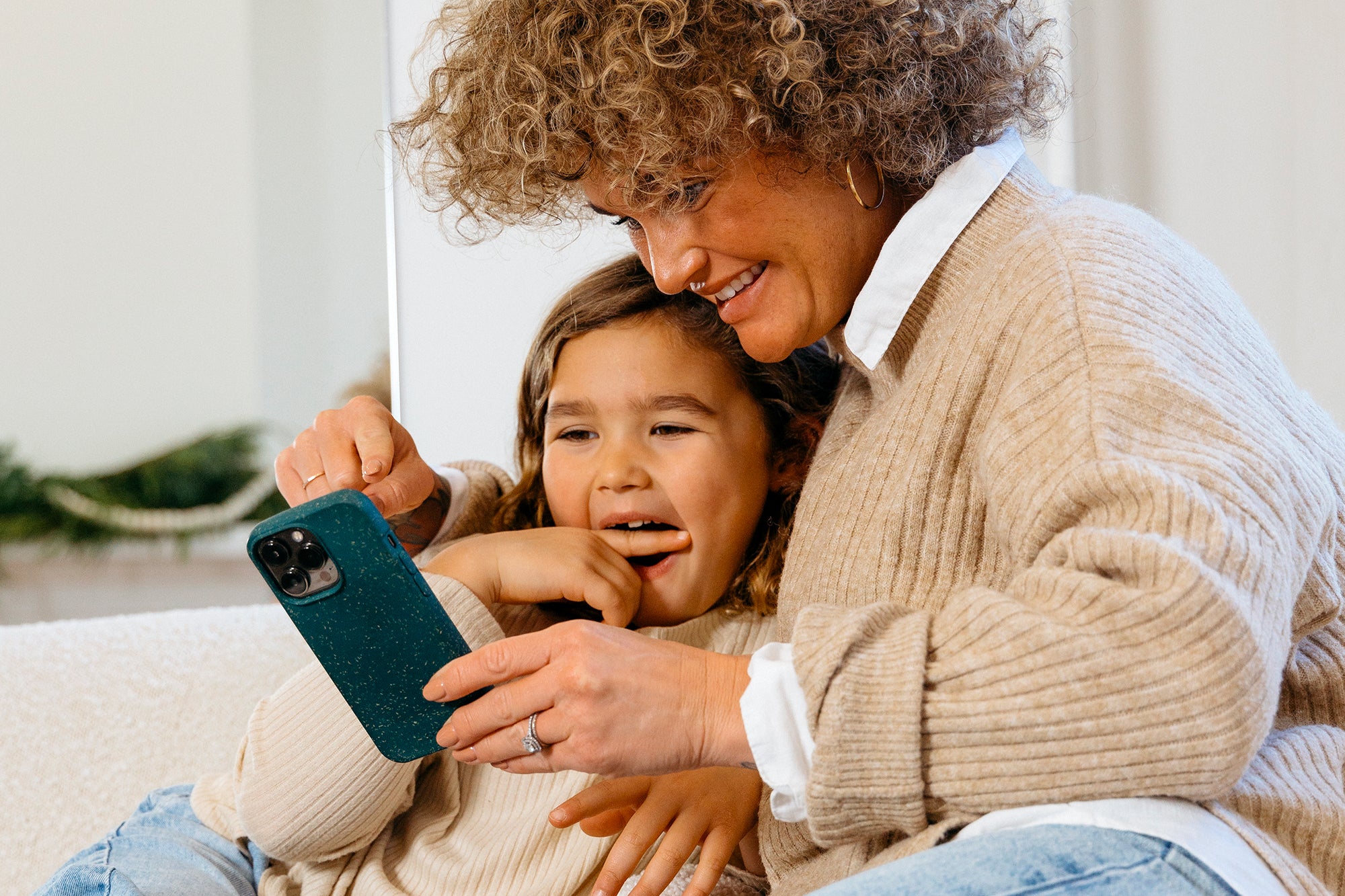 Get rewarded for dealing with trash the right way.
For the first time ever, you'll be rewarded every time you transform your food waste AND you'll be able to track your impact with the connected Lomi App.

Track your impact in our app.
Lomi Bloom can measure each cycle and give you real-time data on your carbon impact.
Earn rewards every time you run Lomi.
Get rewarded every time you run your Lomi Bloom. Earn points and redeem them for Lomi essentials and every day brands that you'll love.
Accessories
Keep your Lomi smelling fresh and create the most nutritious Lomi Earth for your garden.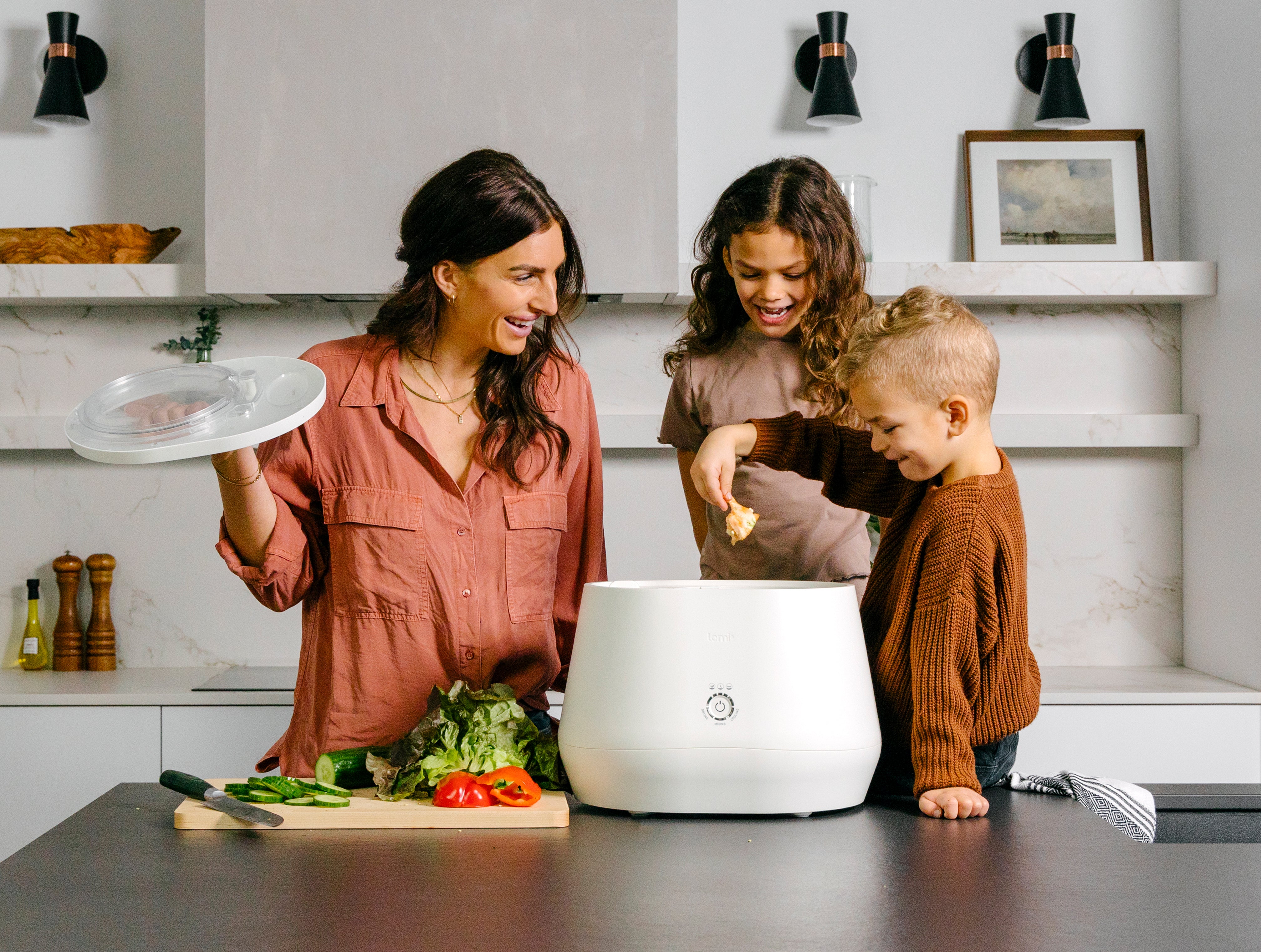 Ready to choose the Lomi that is right for you?
Get the next generation of Smart Waste™ with the faster, cleaner, smarter, and more colorful new Lomi Bloom.
Or you can go with all the basic features that you need to eliminate food waste with Lomi Classic.
More than 165,000 happy households
My Family is a climate solution!!
"The whole process is wonderful to help my family do our part in recycling waste."
The huge difference this simple appliance can make.
"It is surprising to see the difference it has made. Every little tweak in the way we treat the planet is exceedingly valuable."
I've cut the weight of my trash in HALF!!
"This machine is so great. Biggest difference I see is that the weight of my garbage has decreased significantly!"