It's been a few months  since I've had Lomi in my home and I want to share my thoughts with you! For context, I've been backyard composting my whole life. Since I was a little girl, my mom instilled the belief that composting must happen at home and that it just doesn't make sense to throw food waste in the garbage. I believed this so much that I was confused when I visited someone else's house and they didn't compost. 
Currently, I have two big black compost bins in my back garden…I should also mention that I have backyard chickens as well!
I wanted to write about my experience with Lomi compared to my history with traditional composting. Plus, I'm giving you the lowdown on what backyard chickens actually mean when it comes to food waste. 
My experience with Lomi
I was very excited to get my hands on Lomi to try it out for myself. I was shocked that I could run a whole cycle of food waste and there would be absolutely no smells coming from the composter. That's not the case with some traditional composting methods. 
I use Lomi at least 1-2 times a week, and here are my first impressions: 
Composting bioplastics is amazing
Having the ability to compost Lomi-approved bioplastics is absolutely amazing. The fact that I can throw biodegradable and Lomi-approved bioplastics into the Lomi and within hours, they are completely gone, just blows my mind. It's magic opening up the Lomi and seeing the objects disappear. 
Composting meat and dairy is a win
The other huge benefit of Lomi is having the ability to compost meat and dairy. This is something that I'll touch on more later in this article, but this was the main reason I wanted to get my hands on Lomi.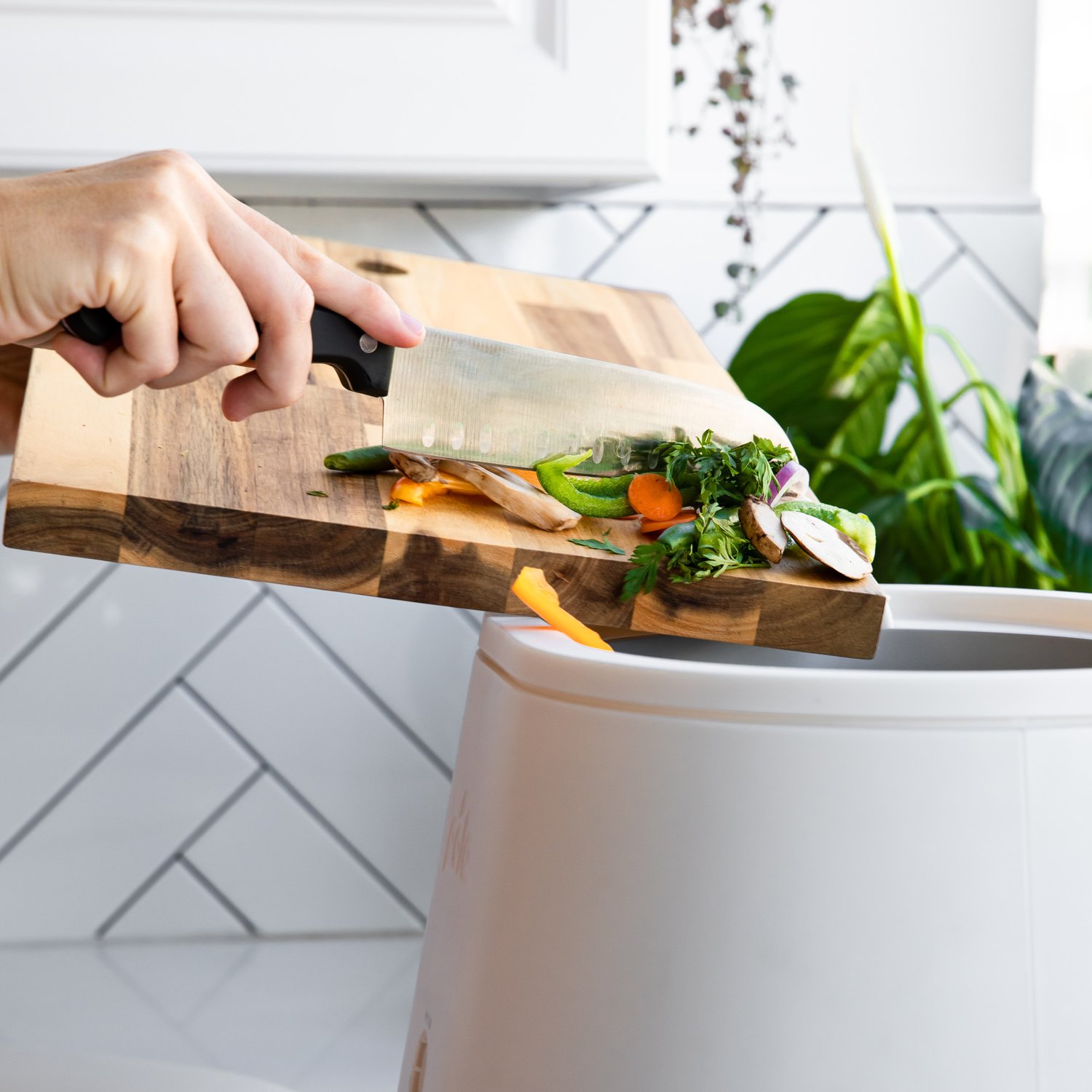 It's an easy way of composting
From the moment I received Lomi to the time I started putting food waste in was about 5 minutes. The set up was so simple and the video tutorials the Lomi team created really helped ensure I did everything right. Using Lomi takes essentially no effort at all and makes composting easy. I love the minimal design and the ease of use with just one button to press! 
Lomi vs Traditional Composting
Now that you know my first impressions of Lomi, here's the differences between Lomi and traditional composting. I want to start by saying I love traditional composting and I also love using my Lomi. 
I believe that if you do not have any space for traditional compost, Lomi is 100% for you. Right now, for me, I'm figuring out when to use Lomi and when to put my food in the traditional compost bin. 
What goes into Lomi vs a compost bin
I think the biggest difference between Lomi and a traditional compost bin is what you can compost. I love that you can use Lomi to compost meat and dairy — which is not something that can be done with traditional composting. When it comes to harder items like avocado pits, it's best to avoid throwing these in your Lomi. If you have a traditional compost bin, you can throw your pits in there, like I do. 
But, if you don't have space for a traditional compost, simply putting the pits in the garbage is okay too. While it's food waste, it's substantially less than what you'd be producing without Lomi. 
The length of time it takes
Time is one of the biggest benefits of Lomi. Traditional compost can take a quite a while to decompose. I usually fill my black bins up throughout the year and it's ready to use come the spring. With Lomi, within 24 hours, you have nutrient-rich dirt to use.
In a time of instant satisfaction, Lomi makes composting fast, accessible and fun.
Smell, sound and your sanity
There are three final last things to mention about Lomi vs traditional composting and they all start with S.
Smell: A lot of people are worried about composting because of the smell. With the use of the activated carbon, Lomi eliminates all smells. I was amazed at how Lomi didn't smell. We would put our food waste in the bucket and leave it for a couple of days until the bin was full. Even in that amount of time, there were no smells coming out of the Lomi.
Sound: Lomi is a quiet machine. It doesn't make much noise — about the same as your dishwasher! When you turn on Lomi, you won't even notice it's on.
Sanity: Your sanity will be saved with Lomi! You don't have to put any effort into your composting journey with Lomi. The idea of being able to invest in a machine that takes the hard work out of composting is brilliant.
Lomi vs backyard chickens
I have three wonderful backyard chickens. A lot of people question why you need to compost when you have chickens. For me personally, having chickens does not negate the need for composting or Lomi. I give my chickens treats from our food waste, but I don't give everything to them. Chickens can't eat everything that we throw into our compost bins (potatoes, avocados, onions), whereas the Lomi can eat all of those things! 
For myself, my ladies don't overrule my need for Lomi. 
My final thoughts on Lomi
Lomi is an amazing composter that would benefit many homes. The ease of use is one of (if not the best) benefits of the machine. While many people have spoken about the cost, I personally believe the investment is worth it. Not only are you investing in the betterment of the environment and planet, but also your own food waste usage and carbon footprint. Minimize your food waste at the push of a button. If you're ready to invest in the countertop composter that will change your life, you can easily order your Lomi online! You can also check out the FAQs or the blog to learn more about Lomi, its benefits, and how it works.
Written by: Molly Gibson Kirby