Electric composters are a fantastic composting option for many people. They're easy to use, don't take up much space, and are far quicker at composting than any traditional methods. However, not all electric composters are created equal. 
With that in mind, what are your options and how can you find the best kitchen composter for you? We're going to take a look at Lomi and its competitors so that you can see the best choices available and how they compare.
We already know that Lomi is a great choice, so let's start by checking out what else is on the market.
Lomi alternatives: 3 other composter options for your home
Lomi isn't the only kitchen composter available on the market. There are a few electric composters available that offer various features. The better composter for you may have less to do with the product being strictly better than others and more to do with the company or the design of the composter.
Here are 3 other popular electric kitchen composter options: 
Vitamix FoodCycler
Tero
Kalea
Let's take a look at what each of these electric composters have to offer and how they compare to Lomi. 
Top 4 electric kitchen composters in the market
Electric composters generally work the same way to break down your food waste with some variation in method, quality, and available features. Here's a detailed look at the best electric copmosters and who they're best for:
1. Lomi
Lomi was designed and developed by Pela, a leading brand in sustainability with a mission to eliminate the world's waste problem. Lomi is just one of their innovative waste-reducing products.
Lomi is an accessible and easy method for anyone to start composting their food waste. It even has 3 different modes you can choose from depending on your own goals - whether you want to use as little energy as possible, or you want to have a regular supply of nutrient-rich dirt you can use to enrich your gardens.
Because food scraps aren't the only waste issue, Lomi was also designed with a mode that allows you to compost Lomi approved bioplastics. This is something you cannot do at home any other way, either through traditional composting or with any other electric composter.
Best for: People that care about supporting a company that truly wants to help the environment, and are doing everything they can to be a positive force for nature. Lomi is also ideal for people who want to use as little energy as possible, or for people who have bioplastics that they'd like to be able to compost.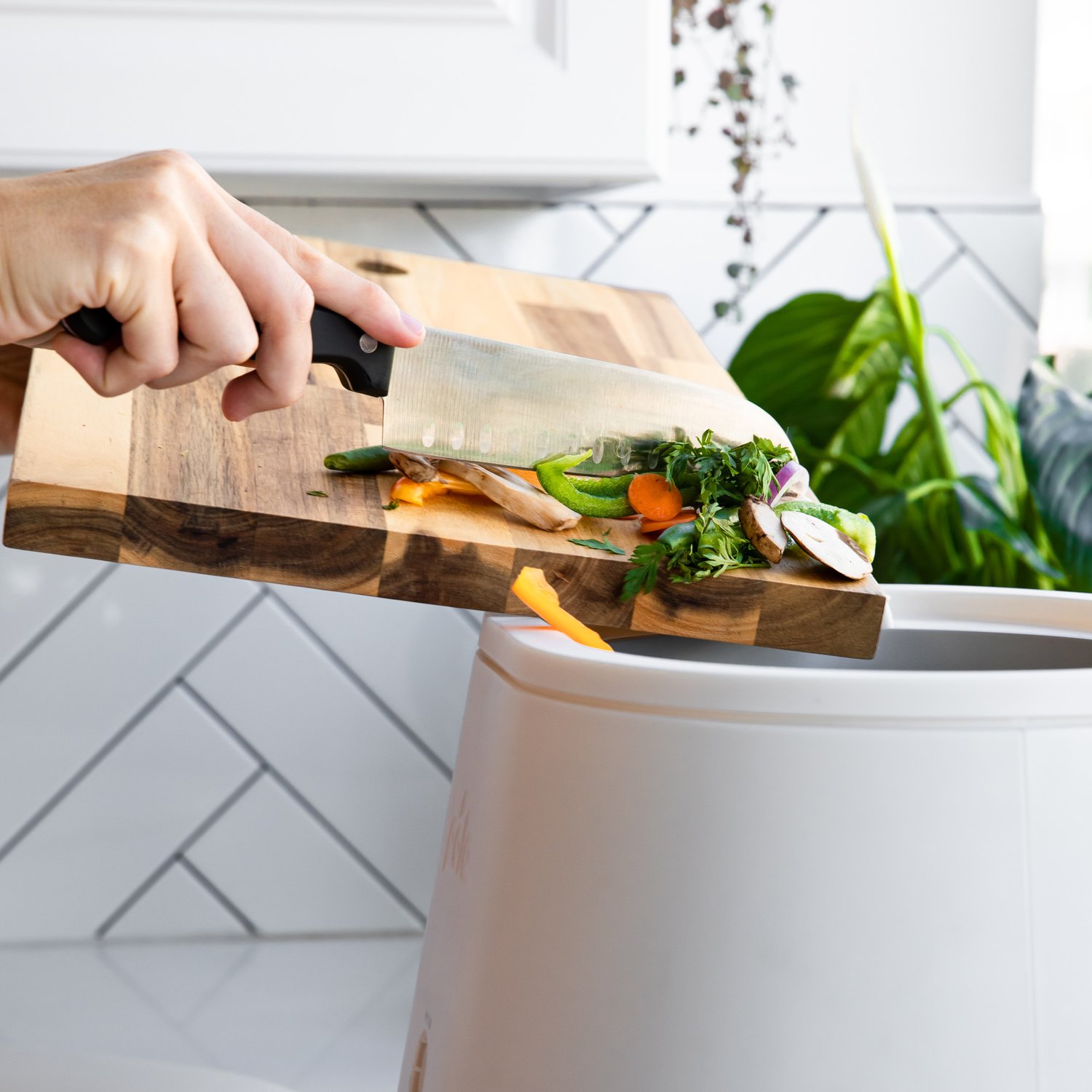 2. Vitamix FoodCycler
The FoodCycler from Vitamix is another popular option for an electric kitchen composter. It works well and produces a nice natural fertilizer for your plants, but there isn't anything about this option that really stands out from the rest. It is, however, the cheapest option on this list, making it a good deal for the quality it provides.
Best for: People who care more about brand names than they do about the quality of the product. For someone wanting the cheapest option and cannot afford a higher quality composter, FoodCycler might be their best bet.
3. Tero
Tero is produced by Tero Innovation, another eco-focused brand aiming to help the environment. To make their product as waste-free as possible, they even designed a carbon filter that doesn't rely on cartridges that need to be thrown away after use, but one that's refillable with activated carbon granules.
Much like Lomi and Kalea, Tero also has an app that can be used to connect with their electric composter. However, that app connection is only available for their more expensive model.
Best for: People who are worried about the carbon filter waste that their electric composter might produce, but less about the quality of the end product.
4. Kalea
Kalea is a new electric composter that is still in development. Unlike the rest of the composters on this list, Kalea is too tall to go on your counter and is meant to stand on the floor instead. This makes it much larger than the rest, so it can hold and compost more waste at a time, but it also takes up far more space and may not fit in everyone's kitchen.
Kalea also works a bit differently than the other composters. It deals with the waste in different layers throughout the bin, so you can add kitchen scraps to it while it's composting. However, this one does take far longer than the other composters to complete a cycle, taking 2 full days instead of less than one day.
Best for: Large households that create too much food waste for a countertop composter to handle. It's also good for people who don't mind waiting over 48 hours to get the dirt.
5 reasons why Lomi is better than its competitors
Although each of those electric composters can be good for the right situation, there are a few key reasons Lomi stands out from the rest of them.
1. Lomi can compost approved bioplastics
Bioplastics are an issue, as it's actually quite difficult for them to be composted. They can't be composted in a home compost pile because it's not a hot enough environment to break them down. They generally need to be composted in an industrial environment, but not every municipality is able or willing to compost bioplastics.
However, Lomi is the perfect solution to this problem. Unlike any other electric composter, Lomi is able to break down Lomi approved bioplastics. It can even compost Lomi's biodegradable packaging! Once that's broken down in Lomi, the dirt can be added to a normal compost pile or green bin.
2. Lomi is Climate Neutral certified
Unlike the rest of the companies producing electric composters, Pela follows through on their sustainability commitment with Climate Neutral certification. Climate Neutral is a nonprofit that provides certifications to brands that have measured their greenhouse gas emissions, put the work into reducing emissions wherever possible, and have offset their remaining carbon footprint.
This certification means that you know when you buy Lomi, it will arrive at your door with a net neutral carbon footprint. This isn't something that can be guaranteed without such a certification.
3. Lomi offers several modes to match your needs
Pela understands that not everyone wants to use electric composters the same way and for the same reasons. That's why Lomi was designed with three different modes:
Eco-Express: Lomi's shortest and most energy-efficient mode, so you can maximize breaking down your waste while minimizing energy usage. This mode only takes 3 - 5 hours.
Lomi Approved: This mode is for breaking down Lomi approved bioplastics and takes 5 - 8 hours to complete.
Grow: For those of you with gardens or indoor plants, the Grow mode turns your waste into a nutrient-rich dirt perfect for mixing with your soil. This mode takes 16 - 20 hours.
4. Pela is a certified B Corporation
Certified B Corporations are brands that have been evaluated as a force for good. They're businesses that have been strictly evaluated to have a positive social impact for both consumers and employees, as well as a positive environmental impact. Pela has been a proud B Corporation since 2019 and works hard to ensure they maintain that beneficial impact.
5. Pela is on a mission to eliminate 1 billion pounds of plastic
Although some companies may mention that the waste problem is important to them, not many are creating measurable goals they intend to tackle. Pela is showing their dedication to a waste-free future by setting this important goal: to eliminate 1 billion pounds of plastic from the waste stream by 2028. You can help them reach that goal with your own Lomi.
Lomi vs FoodCycler vs Tero vs Kalea: how do they compare?
Here's a table you can use as a quick and easy way to compare the leading electric composters and their features.
Lomi

FoodCycler

Tero

Kalea

Price

$499.00

$399.95

$495.00 ($595.00 for Tero Plus)

899€

Capacity

3L

2L

4L

10L

Dimensions

16" x 13" x 12"

12.6" x 14.2" x 13"

15.8" x 8.5" x 11''

8.8" x 25.6" x 20.5"

Rating

4.7/5 (on Pela website)

4.6/5 (on Amazon)

3.9/5 (on Google Reviews)

Not available

Certifications

Climate Neutral

Certified B Corporation

None*

None*

None*

Energy Consumption

0.6 - 1.0 kWh per cycle

< 1.0 kWh per cycle

< 1.0 kWh per cycle

150 - 200 kWh per year

Shortest Cycle Length

3 - 5 hrs

4 - 8 hrs

3 - 8 hrs

48 hrs

Modes Available

3 modes of operation available

Only 1 mode

Only 1 mode

Only 1 mode

Can Break Down Bioplastics?

Yes! Lomi approved bioplastics can be broken down

 No

 No

 No

End Product

High quality nutrient-rich dirt that is ready to be used for your houseplants and garden 

Low quality dehydrated food waste that has to be "cured" for a week before it can be used in the garden

Low quality fertilizer made from dried and ground food waste

Booster for soil made from dried and ground food scraps

Money-back Guarantee

30 day risk-free trial + full refund 

No risk-free trial or money-back guarantee

No risk-free trial or money-back guarantee

No risk-free trial or money-back guarantee
*No certifications were listed on the company websites.
The bottom line: which is the best home composter?
Lomi is by far the best electric composter for those looking to make a difference in their own home and support a company working to positively affect the planet. Thousands of sustainably-minded people like yourself have already been using their Lomi effectively to reduce their own waste and enrich their gardens.
Lomi offers many unique features and benefits that make it the perfect choice for anyone wanting to buy an electric composter. Here are a few of the reasons that make Lomi the best electric composter in the market:
   Most energy efficient composter on the market
   Highest quality nutrient-rich dirt compared to other composters
   Only home composter that can compost bioplastics
   Has the shortest cycle length compared to other composters
   Offers 3 separate modes you can cycle between
   Only Climate Neutral certified electric kitchen composter
   30 day risk-free trial at home and full refund if you don't love it
   Highly rated and recommended by many eco-conscious users
If you're still unsure what you should get, you can easily learn more about Lomi and whether it's the right choice for you. If you have made your decision and Lomi is the electric composter for you, you can order yours online today. Either way, thank you for making the decision to deal with your food waste in a helpful and sustainable manner! Let's hope you're able to reach your own environmental goals with the help of your electric composter.
Written by: Sereana Simpson