Lomi x HexClad
We know that with every delicious meal comes food waste. That's why Lomi is here to take care of the mess so you can get back to enjoying mealtime, all while reducing your carbon footprint. 
Unleash your creativity with HexClad & let Lomi take care of the rest. 
Shop Lomi
Welcome to the hybrid revolution in cookware
Hexclad decided to reinvent premium cookware. Their patented hybrid cookware brings together the performance of stainless steel, the durability of cast iron, and the convenience of nonstick. The result is cookware that performs to Michelin chef standards, with the cleanup convenience you need at home. Now you can unleash your potential in the kitchen without limits.
Free from toxic coatings and with a lifetime warranty, Hexclad is safe for the planet and safe for your home.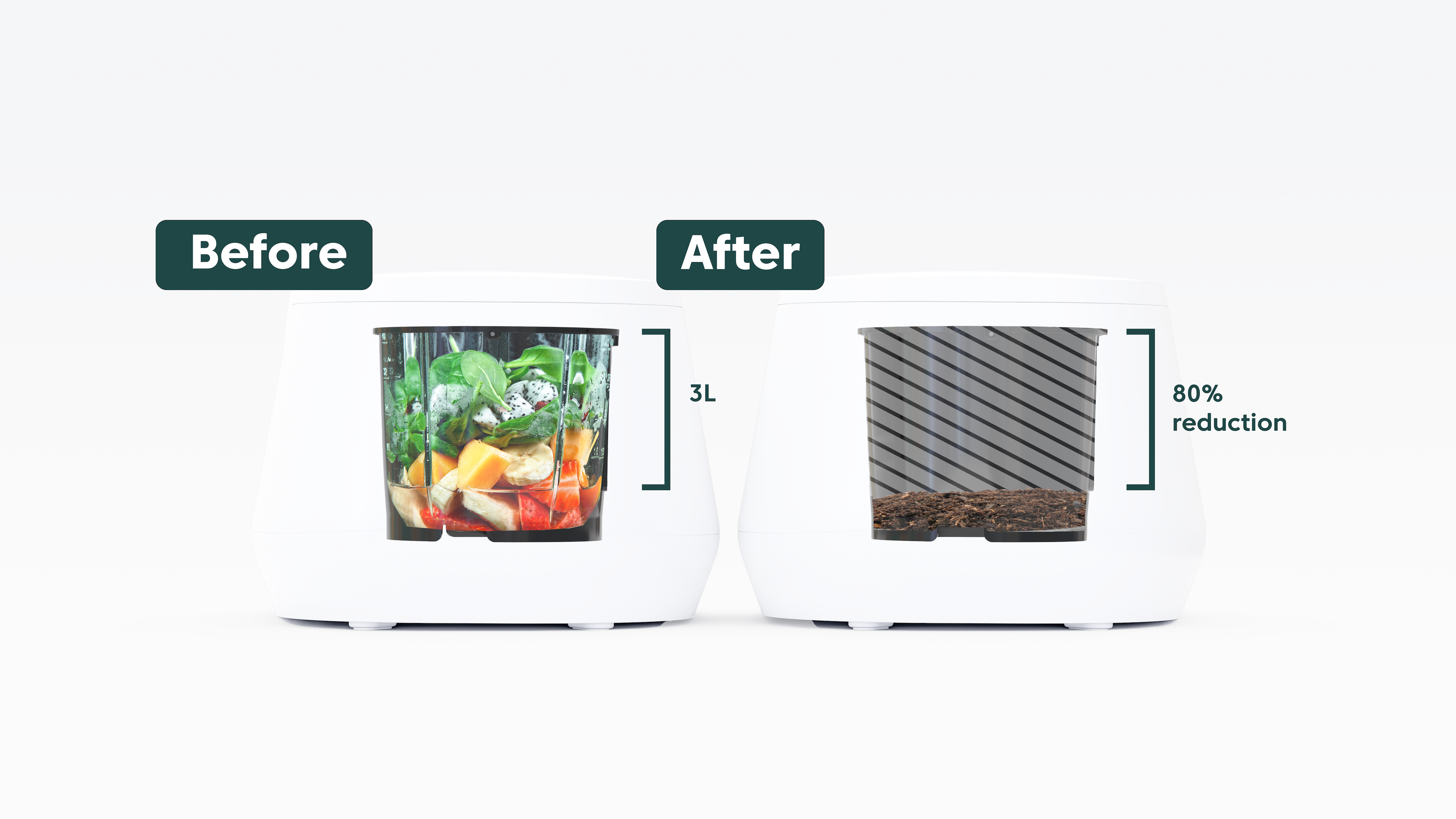 You'll be shocked at how much less waste you produce each week.
Not only is Lomi helpful in keeping insects, rodents and gross smells out of your home, it is one of the easiest things you can do for climate change.
When organic waste (i.e. food) goes to landfills, this is one of the leading causes of greenhouse gas emissions globally.
Whether that's a lack of space, or cold weather, it's just not easy for people to compost on their own. Lomi is a solution that works for everyone.
What do I need to know about my Lomi when getting started?
Food waste. Button. Dirt - It's that simple.
Lomi begins by heating and grinding your food waste.
Through the cycle, the sensors measure and control the moisture content and temperature inside while the airflow system provides continuous supply of oxygen.
The airflow system also consists of a proprietary dual-filter design that helps neutralize the odour.

So what's with our dirt?
Well, technically speaking it's pre-compost.
We like to call it Lomi Earth™
Lomi Earth contains important organic matter & microbes needed to create healthy soil.
It's a superfood that you can sprinkle on your lawn, garden and plants.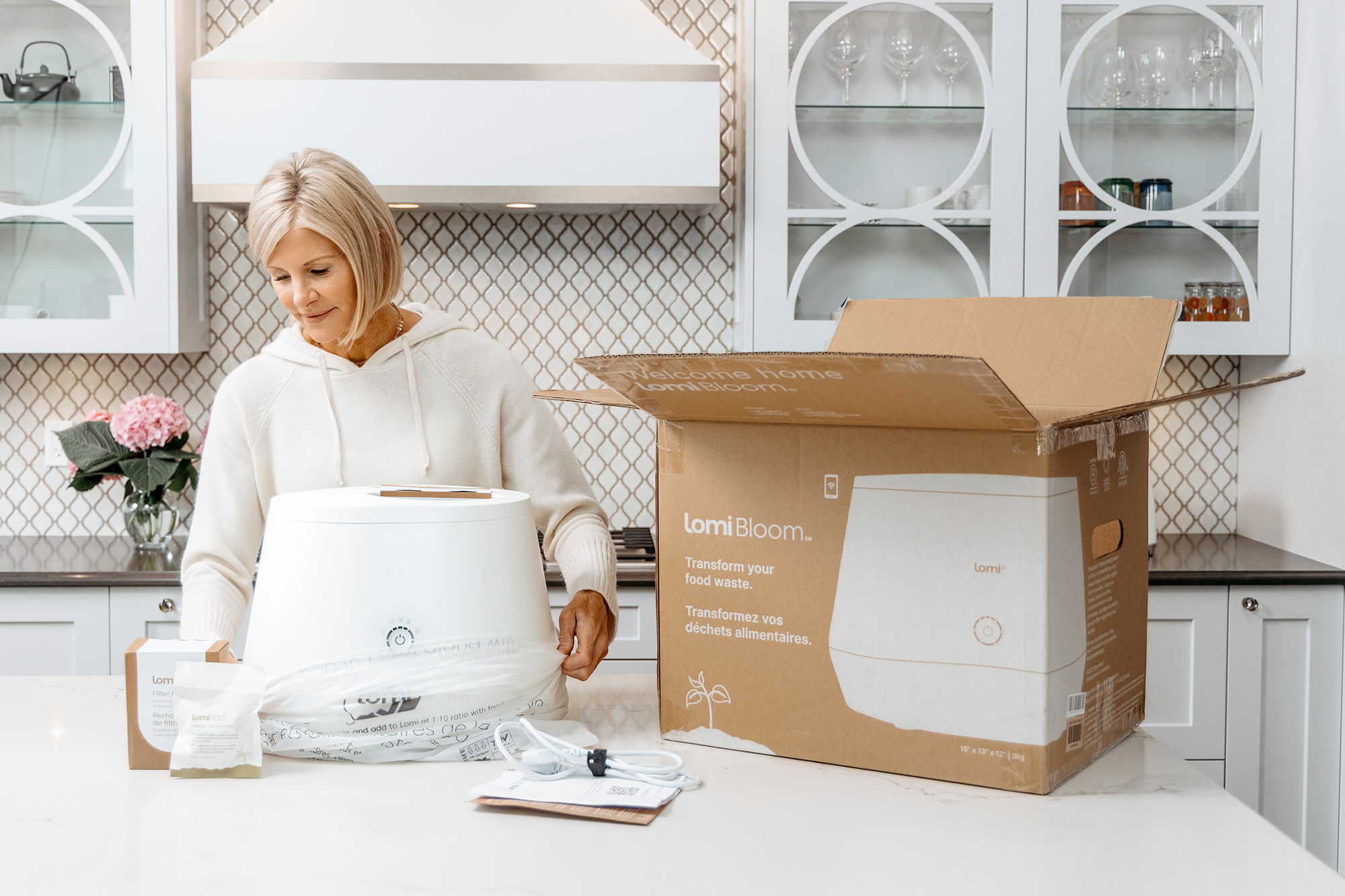 Lomi Bloom will arrive at your doorstep with:
Lomi Bloom
Filters for 45 cycles to keep your kitchen smelling fresh and odor-free
LomiPods for 45 cycles to get the best plant food out of your Lomi cycle
Product Specifications

Dimensions
16" W x 13" D x 12" H
Weight
9 kgs (19-20 lbs)
Capacity
3 litres
Voltage
110V North American
Noise level
< 60 bD (same as a dishwasher)
Electricity needs
Eco Express: less than 0.60 kWh
More than 150,000
happy households
Faster, cleaner, smarter... and way more colorful.

Up to 2 hours faster
Lomi Bloom comes with updated temperature sensors that reduce cycle durations.

A new cleaning cycle.
A hassle-free way to clean your Lomi Bloom. Just add water and start the cleaning cycle.

Basically soundless.
Quieter than a modern-day dishwasher, Lomi Bloom runs at under 60 db.
A Connected Lomi
Using our Apple iOS app Lomi Bloom can measure each cycle and give you real-time data on your carbon impact.