Switching to eco-friendly appliances is now easier than ever thanks to the variety of options available today. Whether it's ensuring all your cooking gadgets have the lowest carbon footprint possible, or keeping your home clean with eco-conscious small appliances, you're sure to find something that suits all your needs.
Read on to learn about the top four benefits of switching to sustainable home appliances, or skip ahead to see our picks for fifteen of the most eco-friendly appliances on the market.
First up, here are our picks for the best of the best when it comes to eco-friendly house appliances such as refrigerators, space heaters, electric composters and more.
Our recommendations for the most eco-friendly appliances
With all the products currently available, we understand researching and buying sustainable home appliances can be overwhelming. So we've rounded up four of our favorites. We highly recommend you check them out!
Best kitchen composter: Lomi Electric Compost Bin
Best large kitchen appliance: Whirlpool 21 cu. ft. Side-By-Side Refrigerator
Best small kitchen appliance: Mueller Ultra Kettle M996
Best non-kitchen home appliance: Dyson Hot + Cool AM09 Bladeless Fan Heater
Top 4 benefits of switching to eco-friendly home appliances
Buying new appliances is always an investment. After all, they usually cost hundreds - if not thousands - of dollars and they're meant to last you years and years. It's understandable to feel hesitant, but there are so many great reasons to switch out old appliances for ones that are gentler on the environment. And here are four of them!
Sustainable appliances help reduce your energy consumption: Efficient appliances can reduce energy use by 10 to 50 percent, especially if you're replacing an outdated, energy-hog. When searching for sustainable home appliances, look for those with an Energy Star label as that means they're third-party certified and use a significantly smaller amount of energy than their non-rated counterparts. In turn, this helps to reduce your household's greenhouse gas emissions, which contribute to climate change.
Eco home appliances help reduce your water use: Let's not forget how water-using appliances such as dishwashers and washing machines can send far too much of our most precious resource literally down the drain. Again, look for third-party certifications such as Energy Star, which takes water use into consideration along with electricity, as well as those that are WaterSense labeled.
Eco-friendly kitchen appliances help reduce your food waste: Food waste is a global problem. Roughly a third of the food produced is wasted annually. Kitchen appliances such as an electric composter can turn your waste into nutrient-rich dirt that you can then use to fertilize your indoor and outdoor plants.
Sustainable household appliances help save you money: One of the best benefits of switching to energy-saving appliances is that they lower your annual energy costs. Even though sustainable appliances sometimes cost more upfront, you can make up for the investment in long-term savings on your energy bills and other utility bills such as water.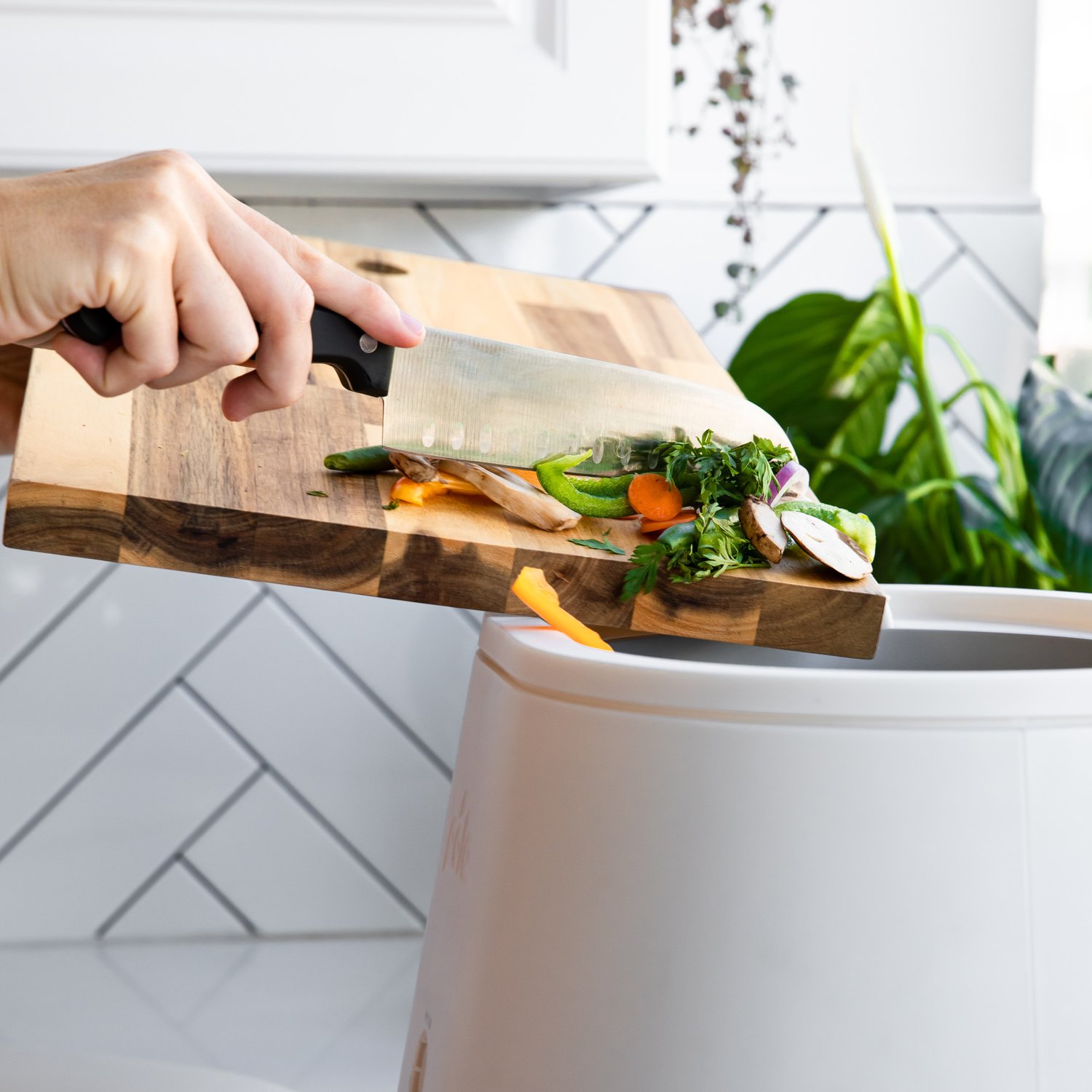 15 best sustainable and eco-friendly household appliances 
Exhausted by the thought of digging through the thousands of appliances out there, trying to suss out which are actually eco-friendly and which just claim to be? Don't worry! We've done the work for you and found fifteen of the best eco home appliances in a wide range of categories. And all you have to do is read on.
Lomi is an electric composter that turns food scraps into usable, nutrient-rich dirt at the touch of a button. This composter has several modes, including an eco-express mode, and uses heat, abrasion and oxygen to break down organic matter in as little as four hours. And thanks to its compact size, even those who live in small apartments can now enjoy the benefits of composting.
Product: Lomi kitchen composter
Price: $499
Why you need it: Lomi not only helps divert your kitchen scraps from the landfill, but also turns your food watse into a natural fertilizer that can be used for your houseplants or in your garden!
If you've spent any time shopping for vacuum cleaners you'll know they can get very expensive. The Shark NV501 Rotator Pro Upright Vacuum balances performance with affordability. Household vacuum cleaners use between 500 and 3000 watts of energy, but go too low and you risk a model that doesn't deliver. The NV501 comes in at an energy saving 1200 watts.
Product: Shark NV501 Rotator Pro Upright Vacuum
Price: $239.99 
Why you need it: Features include a detachable pod for cleaning under furniture, advanced swivel steering and a HEPA filter, which traps dust and allergens.
Perhaps one of the most important appliances to switch out for an energy efficient model is your old refrigerator. Fridges tend to be one of the biggest electricity consumers in the home, but Energy Star appliances such as the Whirlpool 21 cu. ft. Side-by-Side Refrigerator are 10 percent more efficient than fridges that meet the minimum federal standard. 
Product: Whirlpool 21 cu. ft. Side-by-Side Refrigerator 
Price:$1529.99 
Why you need it: While many energy efficient refrigerators are on the small side, this Energy Star model still allows for plenty of storage space for all your favorite foods and beverages.
Air purifiers are one of the small appliances that Energy Star reviews and rates, and the Therapure TP-150 made the list. A standard air purifier uses 450 kWh per year, which is more energy than some refrigerators. The TP-150 uses only 44.2 KWh per year and comes with a cleanable HEPA filter, which saves waste.
Product: Therapure air purifier
Price: $78.99 
Why you need it: The TP-150 uses UV light to help reduce certain viruses and bacteria. It also helps remove cigarette smoke, odors, pet hair and dander from the air.
Energy Star dishwashers, such as this 24" built-in dishwasher by LG, can use as little as 258 kWh per year, which works out to an estimated cost of only $34 annually. With four spray arms that clean from every angle, this LG dishwasher gets your dishes clean the first time so there's no need to prewash or rewash, meaning less water wasted. It's also very quiet and comes in fingerprint proof stainless steel, so it'll look nice while also being kinder to the environment.
Product: LG 24" Dishwasher
Price: $799.99 
Why you need it: This dishwasher also features a stainless steel inner tub, which means it'll be more durable than models with plastic interiors.
Induction cooktops can be pricey, but if you or someone in your home loves to cook they are definitely worth the investment. Heat food quickly and evenly with the Bosch 500 Series 36" Induction Cooktop, all while monitoring each of the 5 elements with its own individual timer to prevent overcooking.
Product: Bosch 500 Series 36" Induction Cooktop
Price: $2,299.99 
Why you need it: With a ceramic cooktop, cleanup is a breeze. Simply wipe and go - no need to dismantle individual burners and clean underneath like with a traditional electric cooktop.
The company Vornado has been around since the 1940s and still uses its signature air circulation technology in its latest products. Now their EnergySmart line is up to 80 percent more efficient. Their 6803DC model has a whopping 99 settings ranging from a mere whisper of air to a full blast.
Product: Vornado Pedestal fan
Price: $179.99 (shop here)
Why you need it: The angle of the blades, paired with an enclosed air duct, helps to move air up to 85 feet.
Made from long-lasting borosilicate glass, Mueller's M99S Ultra Kettle is equipped with LEDs to indicate the kettle is boiling. It heats water ultra-fast, but also automatically shuts off 30 seconds after boiling is reached to prevent accidents. More energy efficient than the stovetop, use the Ultra Kettle to boil water for tea, oatmeal, noodles and more!
Product: Mueller's M99S Ultra Kettle
Price: $39.97 
Why you need it: This kettle has a seven cup capacity, is cordless when it's off its base, and can bring water to a full boil in mere minutes.
If you want to take your home's green factor to the next level, consider harnessing the power of renewable energy by installing a solar water heater like the DBS Drainback System by Alternate Energy Technologies. While solar water heaters come in direct and indirect models, direct only works in warmer climates where there's no risk of the water freezing.
Product: DBS Drainback System by Alternate Energy Technologies
Price: Varies (request a quote here)
Why you need it: Drainback solar water heaters are maintenance free and known to be super reliable.
Did you know the average American daily does 300 loads of laundry per year? No wonder it's so important to purchase energy efficient laundry machines! As far as energy efficient washing machines and dryers go, Whirlpool's 4.5 cu. Ft. washer and 7.4 cu. Ft. dryer combo are great options. They're both Energy Star rated, meaning they use less energy consumption and use less water than non-rated models.
Product: Whirlpool's 4.5 cu. Ft. washer and 7.4 cu. Ft. dryer 
Price: $1889.98 
Why you need it: These models can be purchased alongside pedestals for additional storage, which also lift the appliances up and make them easier to access.
Like any of the energy efficient appliances out there, a green steam iron needs to be smart. With the patented MicroSteam400 3De soleplate, Rowenta's Eco Intelligence steam iron gets stubborn wrinkles out fast. And it saves 25 percent more energy while doing so. You can even use it to vertically steam hanging garments with no worries of leaking water thanks to the anti-drip feature.
Product: Rowenta's Eco Intelligence steam iron
Price: $96.46 
Why you need it: This iron has three manual steam settings, an anti-scale system and works with regular tap water making it high-performing and user-friendly.
Turn tap water into sparkling water or soda in a matter of seconds - and never need to buy beverages in a plastic bottle again! A SodaStream would be a great addition to any zero waste kitchen, plus it's super fun to use. And if you're wondering if it's worth the price, just read the reviews on SodaStream's website and you'll see this handy little machine gets a lot of love.
Product: SodaStream
Price: $129.99 
Why you need it: While not everyone enjoys getting an appliance as a present, a SodaStream is the one exception and would make the perfect gift for birthdays, Christmas or Mother's and Father's Day.
If you're serious about creating an eco-friendly kitchen, then an oven with convection capabilities is a must. The Bosch Built-In Double Electric Convection Wall Oven cooks evenly while having a higher energy efficiency than non-convection models. It also comes with an internal temperature probe to help you monitor your cooking progress.
Product: Bosch Built-In Double Electric Convection Wall Oven
Price: $4099.99 
Why you need it: This model has five available racks and can accommodate multiple dishes at once, making it a fantastic option for large families or for people who love to entertain.
Looking like it's straight from the future, Dyson's Hot + Cool AM09 Bladeless Heater delivers heat when it's needed - plus it doubles as a fan for when you need to cool down. Dyson's patented Air Multiplier technology provides quick and even heating, but the thermostat and sleep timer will stop the heater from continuing on after it's done its job.
Product: Dyson's Hot + Cool AM09 Bladeless Heater
Price: $340.00 (shop here)
Why you need it: The Hot + Cool has won awards for its whisper-quiet sound, which is great for light sleepers who can't relax when something in the room is whirring away.
When it comes to sustainable kitchen appliances, you can't find a more eco-friendly appliance than one that doesn't even use electricity! The Porlex JP-30 Stainless Steel Coffee Grinder is hand-cranked and has an inner spring that will help to keep your coffee bean grounds a consistent size. The best part is it requires no energy but your own.
Product: Porlex JP-30 Stainless Steel Coffee Grinder
Price: $58.50 
Why you need it: With a stainless steel outer body and easy to clean internal gears, this grinder will stay looking great and working as it should for years to come.
And there you have it! Fifteen eco-friendly house appliances to help you create an earth-conscious home. From energy-efficient appliances for the kitchen, to gadgets that help you keep your home clean, even just one or two small changes can make a big impact in your own personal sustainability journey.
If you want to go past green appliances, further reduce your carbon footprint and make your kitchen even more sustainable, check out our article detailing 30 Zero Waste Kitchen Products. Then go ahead and order yourself one of the best eco kitchen appliances out there - Lomi!
Written by: Larissa Swayze